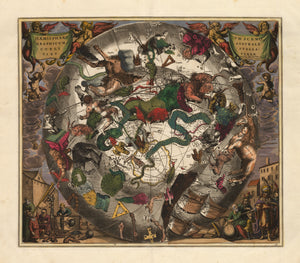 By: Andreas Cellarius - pub. by Valk & Schenk
Date: 1661 / 1708 (published) Amsterdam
Original Size: 16.75 x 19.5 inches (42.3 x 49.5 cm)
This fine print, map reproduction presents the ancient constellations of the Southern sky set against a globe showing the South Pole, southern South America and Africa. Richly engraved in the baroque style and surrounded with an elaborate cloud background with putti in the sky and astronomers surrounded by instruments below.
Andreas Cellarius was a well-known celestial cartographer of the late 17th and early 18th centuries. His attractive, beautifully engraved charts depicted theories and evolution in the field of astronomy, from the theories of Ptolemy and Copernicus through the Age of Exploration and its period of scientific development in Europe. This is from a Schenk and Valk re-issue of Cellarius' "Atlas Coelestis seu Harmonia Macrocosmica", one of the finest 17th century Dutch celestial atlases produced.
Inventory #10949
Contact Us
Use the form below to ask questions about our fine print reproductions, give special requests, help us source the right map for you, customize your order, or sell us original maps you own to our sister company, New World Cartographic.
All you have to do is message or call us at (312) 496 - 3622.