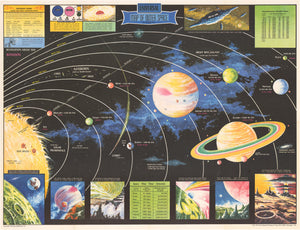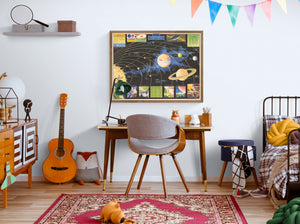 By: Rand McNally
Date of Original: 1958 (dated) Chicago
Original Size: 32 x 41 inches (81.3 x 104.1 cm)
This is a reproduction of a very exciting map of our solar system. The map shows a portion of the sun in the lower left, with all planets radiating out to the right over the Milky Way in the background. The varying sizes of each planet and their moons are accurately represented in the map. The colors rendered in depicting the planets are based on their best understanding of our solar system through the most advanced telescopic and imagery technology available during the late 1950s.

Surrounding the map are several chats detailing distances of planets, interplanetary weights, and relative sizes, as well as six imaginative views from various planets and moons. This imagery is quite representative of the way otherworldly locations would be depicted through mid-century cinema and literature. At the time, space exploration was really just beginning to be seen as a potential reality for many of the best scientists across the world.

The map was produced by Ran McNally in an effort to celebrate the creation of National Aeronautics and Space Administration (NASA). It was in 1958 the Space Act was signed, establishing NASA as the organization responsible for both aeronautics and astronautics. NASA formed the core of this new space agency with other organizations from the Army and the Navy. Three years prior to the printing of this map, the Russian cosmonaut Yuri Gagarin became the first human in space, and eleven years later, Apollo 11 successfully landed man on the moon.

Inventory #19367
Contact Us
Use the form below to ask questions about our fine print reproductions, give special requests, help us source the right map for you, customize your order, or sell us original maps you own to our sister company, New World Cartographic.
All you have to do is message or call us at (312) 496 - 3622.