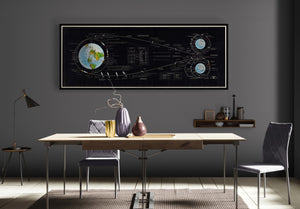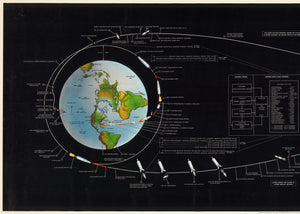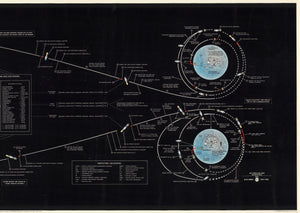 Apollo Manned Lunar Landing : GOSS mission profile
By: National Aeronautical and Space Administration (NASA)
Date of Original: 1969 (dated) Washington D.C.
Original Size: 18 x 48 inches (46 x 122 cm)
This is a fine print reproduction of a spectacular lunar chart plotting the flight path of Apollo II to the moon and back. The original map was sold by the Superintendent of Documents, U.S. Government Printing Office based in Washington D.C. for $0.60.
The map is remarkable both as a visual piece and a source of information. It notes a total of 134 steps and events underwent by the astronauts and spacecraft to complete the entire mission. From the engine ignition and liftoff to the engine cutoff and start of Earth orbit verification, reignition to exit Earth's orbit and head towards the moon, the touchdown and liftoff from the moon, and eventually returning to Earth's atmosphere  and deploy of the main parachutes at 10,000 ft., every important step required is presented in fine detail.
As one follows along the path of Apollo II, they will notice the solid line becoming dashed which represents the loss of communication with Earth as the astronauts circumnavigated the dark side of the moon. The center of the map features a detailed diagram of control centers such as Houston (mission control), Kennedy (launch control), and Huntsville (operational support center), as wel as global network stations for the manned space flight network. An interesting and somewhat obvious note appears just above these charts stating that "this chart has been purposefuly drawn out of scale to better illustrate the major events of the mission." It is with little doubt that if the map was drawn to scale, it would be unsalable as it would be far too wide for the walls of any room.
This is an exceptional map for anyone with an interest in space travel, the Apollo 11 moon landing of 1969, or a taste for eye-catching wall decor as this map would be a center piece for any room in which it is hung. It is pleasing from a distance yet invites you in for further inspection.
#81045
NOTE: THIS MAP IS AVAILABLE IN BOTH ARCHIVAL MATTE PAPER AND A FABRIC ADHESIVE WALL COVERING.
Contact Us
Use the form below to ask questions about our fine print reproductions, give special requests, help us source the right map for you, customize your order, or sell us original maps you own to our sister company, New World Cartographic.
All you have to do is message or call us at (312) 496 - 3622.