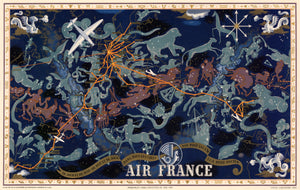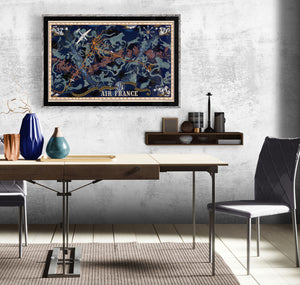 Air France | De jour et de nuit, de nuit et de jour dans tous les ciels : nox post lucem lux post noctem.
By: Lucien Boucher
Date of Original: 1939 (published ) France
Original Size: 24 x 38 inches (61 x 96.5 cm)
This is a fine print reproduction of a celestial themed air travel map by renowned mid-century French artist Lucien Boucher. The map was produced as part of a large series of promotional route maps for Air France in the late 1930s. 
The map illustrates a wide variety of celestial star formations that make up the night sky. The twelve main zodiac constellation Aries, Taurus, Gemini, Cancer, etc. are illustrated in purple with many additional constellations done in a sapphire blue. Each constellation is accurately placed in its proper position upon a Mercator projection world map. A faint outline of countries and continents can be seen in gold with the service routes and stops offered by Air France delineated in bright Orange. Since this map was done in the late 1930s, the only service to the United States is a connection to New York, NY.
The map is surrounded by a decorative border that is made up of the twelve major zodiac symbols. Three of the four corners contain an allegorical figure that is part dragon and part human, acting as wind heads, blowing the trade winds of the world. The full subtitle of this map written if French and Latin "De jour et de nuit, de nuit et de jour dans tous les ciels | nox post lucem lux post noctem," translates to Day and night, night and day in all the skies | night after daylight after night.
Inventory #81065
Contact Us
Use the form below to ask questions about our fine print reproductions, give special requests, help us source the right map for you, customize your order, or sell us original maps you own to our sister company, New World Cartographic.
All you have to do is message or call us at (312) 496 - 3622.