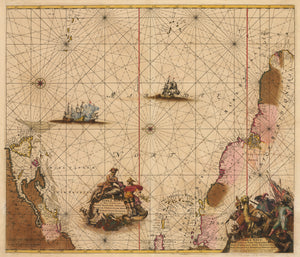 By:
 

Frederick de Wit
Date:
 

1675 (Published) Amsterdam
Original Size:
 

19 x 22 inches (48.3 x 55.9 cm)
This magnificent sea chart of the western Atlantic Ocean shows the trade route to coastlines of North America from Cape Charles, Maryland to Newfoundland, and the West Indies to the northern coast of Brazil. Oriented east by its two compass roses, the chart includes the Azores and Cape Verde Islands at the top.
Of especial interest in this chart is the portrayal of a naval battle scene occurring near northeast North America. De Wit may well have been depicting the state of war that existed between France and the Dutch Republic in what is commonly known as the Franco-Dutch War of 1672-1678, or to the Third Anglo-Dutch War of 1672-1674 in which England briefly became a French ally against the Netherlands. Another vessel near the center of the chart is appears to be a merchant ship no doubt en route to do trade with one or more of the New World colonies.
De Wit graces the chart with two beautiful cartouches, one in Latin and the other in Dutch. The cartouches could be interpreted as allegorical with the Latin cartouche depicting a native American sitting on an alligator offering gold to Mercury, the Roman god of commerce and trade, whilst Neptune, the Roman god of the sea, is examining a chart beside a sea monster. The Dutch cartouche, on the other hand, depicts a scene with a llama heavily laden with trade goods surrounded by native Americans, and European soldiers and traders are surrounded by figures of explorers, natives, sea monsters and exotic animals. In the sea in addition to the ships, are depicted a raging sea battle, rhumb lines and compass roses. Dangerous shoals are also indicated.
Inventory
 #11149
Contact Us
Use the form below to ask questions about our fine print reproductions, give special requests, help us source the right map for you, customize your order, or sell us original maps you own to our sister company, New World Cartographic.
All you have to do is message or call us at (312) 496 - 3622.