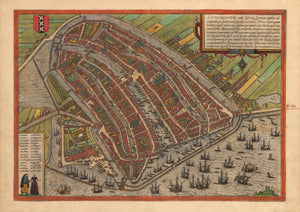 By: Georg Braun and Franz Hogenberg
Original Date: 1574 (Published) Cologne
Size of Original: 13.25 x 19 inches (33.6 x 48.3 cm)
This important early map of Amsterdam is from Braun and Hogenberg's important work Civitates Orbis Terrarum, the first atlas of cities of the world.
This particular map is based on the woodcut of Cornelius Anthonisz, dated 1544, and thus shows the city as it appeared some thirty years before this map was published. Archaeological excavations have revealed settlements in the area dating back at least as far as the Neolithic era, but Amsterdam's modern name has to do with man's attempt to control bodies of water in the region in more recent times. The oldest documentary evidence refers to the settlement of "Aemstelredamme" (Amsterdam) 'dam in the river Amstel' and comes from a document dated October 27, 1275 CE. The dam itself is depicted here.
The map shows a highly organized and efficiently functioning city surrounded on all sides by water, with a port in the lower center, and canals running throughout the city. Fortress-like fortifications are built across the outer channels in a number of places, thus controlling ingress and egress to the city's environs. Myriad seagoing vessels are depicted, and a large number of windmills are seen at the edge of the city and in the cultivated lands nearby. In the city center three cathedrals are presented, and the lower left quadrant features a numbered legend with 28 place names. An intriguing hand-written notation reading 'Ao 1610' in an obviously old hand is in the right margin, perhaps signifying the original map owner's visit to the city?
Translation of text in the cartouche: Amsterdam is a well-known city in Lower Germany that has arisen in recent times to accommodate merchants and is inhabited by people engaged in trade. It is almost impossible to think of a commercial activity that is not practiced here. Hence profit seeking businessmen are drawn to this city from the most far-away lands and transport various goods, first and foremost grain, to Brabant and other parts of the world. Vast riches result from trade of this kind.
Inventory #11069
Contact Us
Use the form below to ask questions about our fine print reproductions, give special requests, help us source the right map for you, customize your order, or sell us original maps you own to our sister company, New World Cartographic.
All you have to do is message or call us at (312) 496 - 3622.