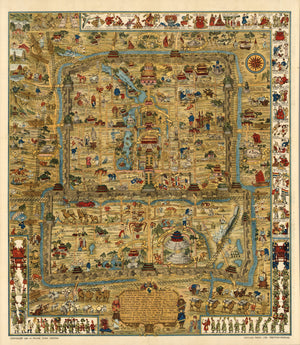 By: Frank Dorn
Original Date: 1936
Size of Original:
33 x 28.5 inches (

83 x 72 cm)
This is a fine print reproduction of a fascinating pictorial map of Beijing that was published by Frank Dorn and the Peiyang Press. Ltd. of Tientsin and Peiping in 1936. It  is one of the great maps of the golden era of pictorial map making. 
Dorn was fluent in Chinese and  lived in China during  WWII, where he drew campaign maps for the U.S. Army. While there, he also made this map of Beijing, which offers a wide scope of ethnographic and iconographic information about the city and its environs.
A myriad of temples still existed at the time, and they are pictured with great care, as are both the Forbidden City and the Imperial City. All the various industries of the great city are depicted, including silk production, animal husbandry and embroidery centers.  Cartoon vignettes surround much of the image, illustrating the history of the city from ancient times to 1936. The accuracy and host of details are made lively and appealing by whimsical qualities which were a distinguishing features of pictorial maps of the era. 
 Inventory #81027
Contact Us
Use the form below to ask questions about our fine print reproductions, give special requests, help us source the right map for you, customize your order, or sell us original maps you own to our sister company, New World Cartographic.
All you have to do is message or call us at (312) 496 - 3622.