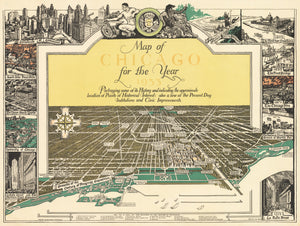 Map of Chicago for the Year 1933 Portraying some of its History and indicating the approximate location of Points of Historical Interest: also a few of the Present Day Institutions and Civic Improvements
By: Ralph Fletcher Seymour
Date of Original: 1932 (dated) Chicago
Original Size: 15.5 x 20.75 inches (39.5 x 52 cm)
A fine print reproduction of a  scarce bird's-eye-view map of Chicago, created for the Century of Progress World's Fair of 1933 and 1934.
The map features the World's fair in the foreground, adjacent to Grant Park. Most of the buildings and attractions erected for the fair are numbered with a corresponding key at the bottom of the map. Some important buildings noted which still stand today include the Field Museum, Soldier Field, the John G. Shedd Aquarium, and the Planetarium. The fair itself took place in and around Burnham Harbor, named after Daniel Burnham, prominent Chicago architect who helped rebuild Chicago after the fire of 1871 and was the primary overseer in the creation of the World's Colombian Exposition held in 1893 further south in Jackson Park. 
Throughout the map important streets are noted as well as neighborhoods, parks, and buildings, and area of commerce. Of these include Chinatown, the Hull House, Maxwell St. Market, Grand Central Station, the Newberry Library, White Sox Ball Park, the Art Institute, and Haymarket Square to name a few. Surrounding the map are important places and scenes found within the city and/or pay homage to its history. The Union Stock Yards, South Side Steel Mills, and Cathedrals of Commerce depicted to the left provide an accurate representation of this city's mix of blue collar and white collar labor. Scenes on the right showing the discovery of the are by Father Marquette in 1674, the first Fort Dearborn erected in 1803, the first bridge in 1833, and the Chicago Fire in 1871, represent some of the most important historical events of the city and area. 
Ralph Fletcher Seymour (1876-1966), a native of Illinois and long-time resident of Chicago, was an artist, author and publisher who was best known for illustrating limited-edition books and designing bookplates. For almost seven decades, Seymour ran his own book publishing firm in Chicago.
Inventory #11611
Contact Us
Use the form below to ask questions about our fine print reproductions, give special requests, help us source the right map for you, customize your order, or sell us original maps you own to our sister company, New World Cartographic.
All you have to do is message or call us at (312) 496 - 3622.