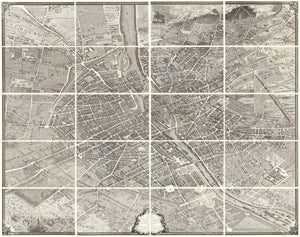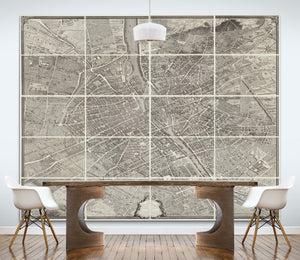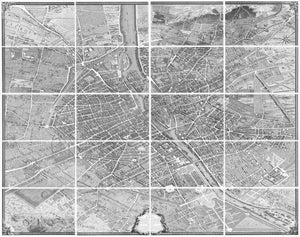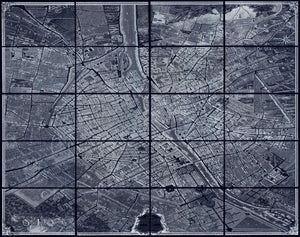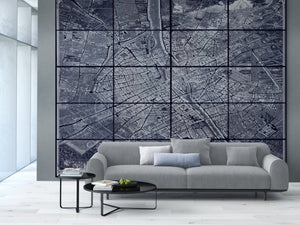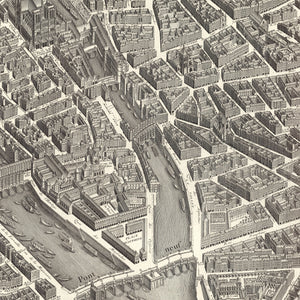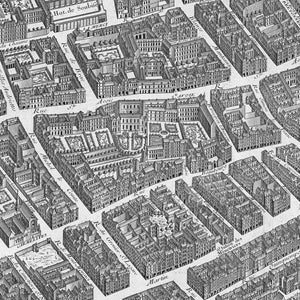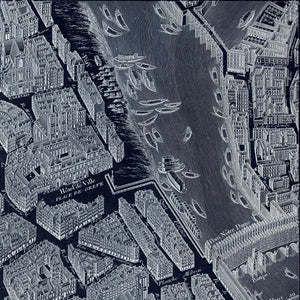 Plan de Paris. Commencé l'année 1734. Dessiné et gravé sous les ordres de Messire Michel Étienne Turgot, Marquis de Sousmons…
By: Michel-Étienne Turgot & Louis Bretez
Date of Original: 1739 (published) Paris
Original Size: 102.5 x 130 inches (260 x 330 cm)
This is a fine print wall covering of a monumental twenty sheet map of Paris that is widely considered to be one of the most impressive bird's eye view of a city every created. It all began in 1734, when Michel-Étienne Turgot, chief of the municipality of Paris commissioned Michel-Étienne Turgot to create a statement piece to be presented to foreign and domestic dignitaries intended to boast the architecture and layout of the historic city.

In order to achieve this, Turgot was given special permission to enter private mansions, houses, and gardens to take measurements and make sketches so that the finished work would be as accurate as if viewed from the sky in a balloon. The entire process took two years of consistent work followed by the exemplary engraving talents of Claude Lucas of the Royal Academy of Sciences.

The end result of these unique efforts is a spectacular map of Paris, comprised of twenty individual sheets that when joined together creates a dramatic visualization of one of the most iconic cities of the world.

#81042
NOTE: DUE TO IT'S SIZE, THIS MAP IS ONLY AVAILABLE AS A FABRIC ADHESIVE WALL COVERING.
Contact Us
Use the form below to ask questions about our fine print reproductions, give special requests, help us source the right map for you, customize your order, or sell us original maps you own to our sister company, New World Cartographic.
All you have to do is message or call us at (312) 496 - 3622.