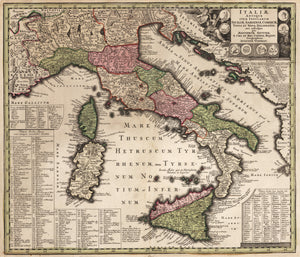 Italiae Antique Item Insularum Siciliae, Sardiniae, Corsicae, Typus et Nova Delineatio, aeri insculpta per Matthaeum Seutter S. Caes. Et Reg. Cathol. Majest. Geographum Augustae Vindelic.
By: Matthias Seutter
Date: 1750 (Published) Augsburg
Dimensions: 19 x 22 inches (48.3 cm x 55.9 cm)
This is a fine print reproduction of a marvelous map of Italy by Matthias Seutter. This bold map shows the entire boot, the major islands and includes some regions of Europe in close proximity such as France, Switzerland, German, and the entire Adriatic Coast. This map reflects Seutter's interest in antiquity and in the preservation of knowledge. Much of the lower left quadrant contains lists of ancient place names both at sea and on land, all numbered to match the places on the map.
Just below the lovely title cartouche in the upper right quadrant he lists authors of antiquity, including such names as Caesar, Cicero, Herodotus, Pliny, Strabo, etc. The lower right quadrant is dedicated to a listing of ancient Sicilian place names which, according to Seutter, are difficult to locate with precision. The list includes names of cities, elevated regions, conquered regions, mountains, rivers, pools, peoples and places. 
Inventory #10886
Contact Us
Use the form below to ask questions about our fine print reproductions, give special requests, help us source the right map for you, customize your order, or sell us original maps you own to our sister company, New World Cartographic.
All you have to do is message or call us at (312) 496 - 3622.