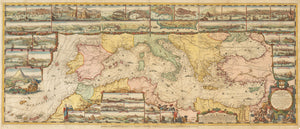 Carte Nouvelle De La Mer Mediterranee ou sont Exactement Remarques tous les Ports, Golfes, Rochers, Banks, de Sable &c . . .
By: Romeyn De Hooghe / Covens & Mortier
Date: 1694 (published) Amsterdam
Original Size: 23 x 55.5 inches (58.5 x 141 cm)
This is a fine print reproduction of Covens & Mortier edition of Romeyn De Hooghe map of the Mediterranean, embellished with 38 inset maps and views of the major ports and harbors of the Mediterranean.
The chart appeared in a special section of Mortier's Neptune François, separately titled Cartes Marines a l'Usage des Armées du Roy de la Grande Bretagne. A total of nine charts in this section were engraved by de Hooghe, and are described by Koeman as the "most spectacular type of maritime cartography ever produced in seventeenth century Amsterdam". This chart of the Mediterranean is the largest and most intricately decorated of all.
Surrounding the map on all sides are 38 inset views of ports, landmarks, and coastal cities throughout the Mediterranean from Lisbon and the Rock of Gibraltar to Tripoli and Constantinople. As this was created with Nautical travel in mind, very little detail is given to the interior of the countries shown in the map except for the locations of large towns and cities. The map includes numerous galleons and galleys,  and elaborate web of rhumb lines, with allegorical figures and sea monsters embellishments. 
Inventory #49359
Contact Us
Use the form below to ask questions about our fine print reproductions, give special requests, help us source the right map for you, customize your order, or sell us original maps you own to our sister company, New World Cartographic.
All you have to do is message or call us at (312) 496 - 3622.