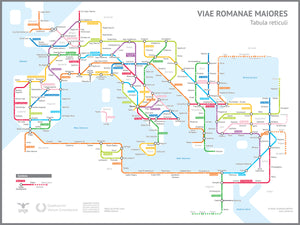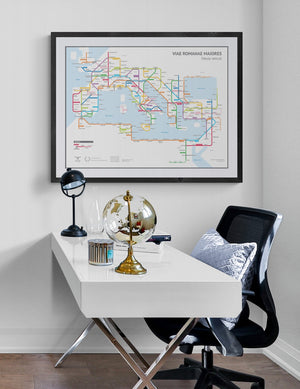 By: Sasha Trubetskoy
Date of Original: 2017
Original Size: 27 x 36 inches
This imaginative map can best be described as a subway-style diagram of the major Roman roads, based on the Empire of ca. 125 AD. Drawing on Stanford's ORBIS model, The Pelagios Project, and the Antonine Itinerary, Trubetskoy's map combines well-known historic roads, like the Via Appia, with lesser-known ones (in some cases given imagined names).
Construction of this vast system of transportation began around 300 BC and continued through the expansion and consolidation of the Roman Republic and the Roman Empire. Through their network of small local roads and long-distance highways, they provided efficient means for the overland movement of armies, officials, civilians, inland carriage of official communications, and trade goods. If you want to get a sense of scale with regards to the applicable use of the Roman roads during the 2nd century AD, it would take two months to walk on foot from Rome to Byzantium. If you had a horse, it would only take you a month.
This map combines the geographical data of an ancient transportation system with the style of modern subway maps many are accustomed to today. The end result is a beautiful map that provides an understanding as to the vast expanses of one of the greatest human civilizations to ever exist. 
Inventory # 81036 
Contact Us
Use the form below to ask questions about our fine print reproductions, give special requests, help us source the right map for you, customize your order, or sell us original maps you own to our sister company, New World Cartographic.
All you have to do is message or call us at (312) 496 - 3622.