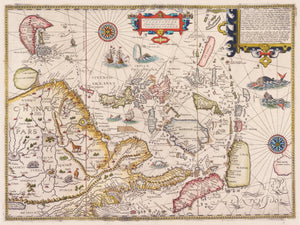 1596 Exacta & Accurata Delineatio cum Orarum Maritimarum tum etjam locorum terrestrium quae in Regionibus China, Cauchinchina, Camboja sive Champa, Syao, Malacca, Arracan & Pegu...
By: Jan Huygen Van Linschoten

Date: 1596 (Published) Amsterdam

Original Size: 15.25 x 21.5 inches (38.7 cm x 54.6 cm)

This is a reproduction of an authentic, antique map of China, Southeast Asia, the Philippines, Borneo, Korea, Japan, Java, and Beach by Jan Huygen Van Linschoten. The map was published out of Amsterdam as part of Linschoten's Itinerario in 1596.

This fantastic map depicts the China, Korea as an island, and Japan to the island of Java and Marco Polo's Beach with an eastward orientation, exceptionally accurate and mythical geographic detail, and a fine array of sea monsters, terrestrial animals, sailing ships, and two fabulous compass roses. Based on the travel accounts of Marco Polo, Linschoten depicts the location of the mythical land of Beach provincia auriferain, where Australia would eventually be discovered. In China, four large lakes are shown in the interior, based on Chinese legend. Korea is depicted as a large circular island and Japan is awkwardly misshapen.

While working as a personal secretary to the Portuguese Archbishop of Goa (1583 – 1589), Linschoten obtained numerous maps and documents from various Portuguese sources. In 1589, while traveling back to Portugal from Goa, Linschoten's ship was pursued by an English fleet and lost its cargo during a storm while anchored off the Azores. Linschoten spent two years in Tercera after being persuaded to help recover the cargo and prepare notes from his time in Goa. A few years after his return home to the Netherlands, he published his maps in Itinerario which would aid the Dutch and the English in discovering trade routes to Asia. The discovery of these routes would ultimately break the century-long trade monopoly controlled by the Portuguese. Linschoten's experiences and the publication of maps that followed would ultimately become one of the most important travel works of the era.

Inventory #19063
Contact Us
Use the form below to ask questions about our fine print reproductions, give special requests, help us source the right map for you, customize your order, or sell us original maps you own to our sister company, New World Cartographic.
All you have to do is message or call us at (312) 496 - 3622.