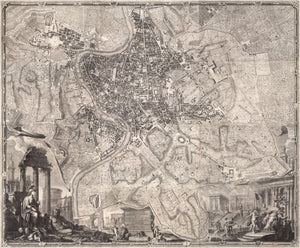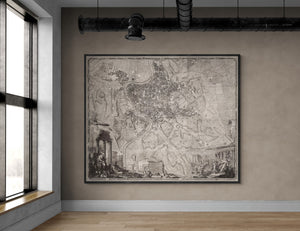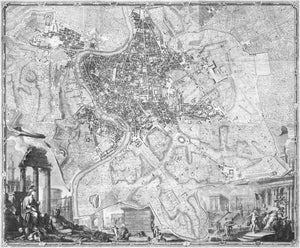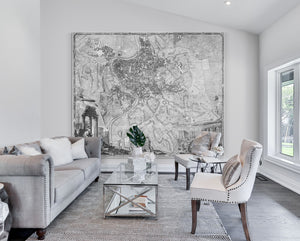 Alla Santita di Nostro Signore Papa Benedetto XIV La Nuova Topografia di Roma Ossequiosamente Offerisce e Dedica Umilissimo Servo Giambattista Nolli Comasco.
By: Giambattista Nolli

Date of Original: 1748

Original Size: 68.5 x 83 inches (174 x 211 cm)

This 18th century cartographic masterpiece referred to as Nolli's ichnographic plan of Rome, presents the ancient city in its Renaissance form by way of a geometric projection that shows the outer walls of buildings and structures throughout. The map was so accurate that it was utilized for centuries as a base map for later maps of the city, most recently in the 1970s.

Initial surveying for the map began in 1736; an effort that resulted in an engraved plan on twelve copper plates that detailed every bridge, road, villa, piazza, orchard, and ancient ruin present at the time of printing. All of Rome's most iconic structures can be found within including the Parthenon, Colosseum, St. Peter's Basilica, and of course the Vatican located in the top left portion of the map.

In the lower left corner, a collage of classical landmarks, includes the Arch of Constantine, the Forum, Trajan's Column, and the Colosseum. In the foreground, allegorical figures rest behind a broken statue of Romulus and Remus. The lower right corner contains more allegorical figures representing of the Church seated before Michelangelo's architectural works on the Capitoline Hill.

This wall map is a true masterpiece exemplifying a quality and attention to detail consistent with the innumerable historic works to come out of Rome over the centuries.

Inventory #81038
NOTE: THIS IS A FABRIC ADHESIVE WALL MURAL
Contact Us
Use the form below to ask questions about our fine print reproductions, give special requests, help us source the right map for you, customize your order, or sell us original maps you own to our sister company, New World Cartographic.
All you have to do is message or call us at (312) 496 - 3622.