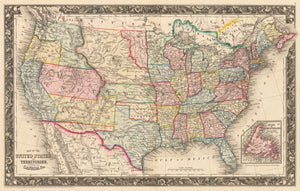 By: Samuel Augustus Mitchell Jr.
Date: 1861 (Published) Philadelphia
Dimensions: 13.25 x 21.5 inches (33.7 cm x 54.6 cm)
This is a reproduction of a remarkably interesting Mitchell map that depicts the Unites States and its territories along with the southern edge of Canada at a time when many territorial boundaries were at their most unusual configurations, providing a splendid display of how differently the states of the US were divided just a hundred and fifty years ago.
Starting with the easternmost region of the central states, we see that North and South Dakota were combined into one smaller unit called simply 'Dacoutah', whose shape was similar to an inverted Indiana. Its neighbor, Nebraska, occupies the territory which later became Montana, Wyoming and bits of other states. Beneath Nebraska is Kansas, which at that time extended well into territory which now is in the state of Colorado. Oklahoma is labeled simply 'Indian Territory'.
At the northwest corner of the country we find Washington state, which extended very far south, and which also encompassed the territory of what is now Idaho to the east. Utah appears to be approximately twice its modern size, covering its current boundaries plus much of the area now occupied by Nevada. New Mexico is also approximately twice its modern size, covering its own territory plus that of Arizona. Arizona itself appears as a small sliver of land just below New Mexico. At the time it was called the Confederate Territory of Arizona, as established by the ruthless Confederate General, John R. Baylor. California and Oregon are configured approximately as they appear today.
The eastern states are in their current form, and all geophysical features are delineated, including the existing, extensive railroad networks. Also depicted are the proposed railroads, wagon routes and migrant trails in the West. The map is framed by one of Mitchell's distinctive borders, in this example, the decorative grapevine. An inset in the lower right quadrant contains a map of the Island of Newfoundland.
Inventory #10737
Contact Us
Use the form below to ask questions about our fine print reproductions, give special requests, help us source the right map for you, customize your order, or sell us original maps you own to our sister company, New World Cartographic.
All you have to do is message or call us at (312) 496 - 3622.