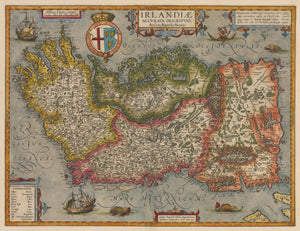 By: Abraham Ortelius / Joannes Baptista Vrientes
Date: 1609 (Published) Antwerp
Original Size: 17.25 x 22.5 inches (44 cm x 57 cm)
This Vintage Map Shop reproduction is a striking example of the Ortelius / Vrients edition of Baptista Boazio's remarkable map of 1599. The map is oriented with north to the right, and depicts Ireland in its entirety.
Depicted are the already then extant provinces of Ulster, Connaught, Leinster and Muster, with counties delineated by dotted boundary lines. The vibrancy of the map is due in part to its depictions of geophysical features, including forests, mountain, all rivers and waterways, cities, towns, settlements and ports. Major landowners are denoted, and the map includes a table in the lower left quadrant which facilitates the understanding of place names such as Caputfamiliae, or head of the family while Mc before a name indicates a region dominated by one related family.
Monsters of fabulous design embellish the seas, as do magnificent frigates, one of them aflame, and a humble fisherman's craft. The man in the small craft is waving a trident near the dedicatory cartouche. The map is further adorned with three additional strapwork cartouches.
Boazio's map of Ireland was added by Vrients when he took over the publication of Ortelius' work following the death of Ortelius. 
Inventory #10755
Contact Us
Use the form below to ask questions about our fine print reproductions, give special requests, help us source the right map for you, customize your order, or sell us original maps you own to our sister company, New World Cartographic.
All you have to do is message or call us at (312) 496 - 3622.