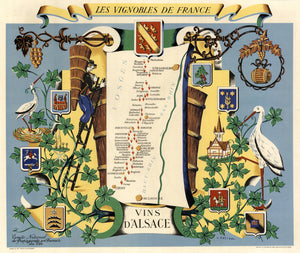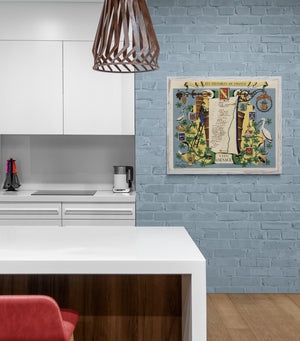 By: Remy Hetreau
Date of Original: 1950 (published) France
Original Size: 25.5 x 31 inches (64.75 x 78.75 cm)
This is a fine print reproduction of a marvelous promotional travel poster from 1950. It was part of a series of maps commissioned by the Comite National de Propagande en Faveur du Vin to celebrate and promote the legendary wine regions of France. French artist, illustrator and print maker, Remy Hetreau took on this task, creating some magnificent posters highlighting local wineries of eight different regions.

The title is contained in a ribbon cartouche at the top of the map. Here Hetreau presents a scroll background on which are positioned a young man climbing a ladder to a massive barrel of grapes to which he is depositing another batch. A variety of crests (seven in total) surround the map, along with an adorable chateaux and table with two bottles and glasses of wine. Featured prominently on either side of the map are two large birds resembling Egrets that stand prominently. The map shows a large number of vineyards between the towns of Mulhouse, Thann, Colmar, Selestat, and Strasbourg along the Rhine River.
Alsace is historical region along the Rhine River located in northeastern France with the capitol being Strasbourg. Over the centuries the region has alternated between German and French control, giving it a unique mix of cultural identity. These territorial changes had an effect on the wine as well with Germans preferring a more dry wine than the French. Today, much of the wine produced here is white and made from aromatic grape varieties, so a common characteristic of these wines are aromatic, floral and spicy. 
Inventory #10773
Contact Us
Use the form below to ask questions about our fine print reproductions, give special requests, help us source the right map for you, customize your order, or sell us original maps you own to our sister company, New World Cartographic.
All you have to do is message or call us at (312) 496 - 3622.