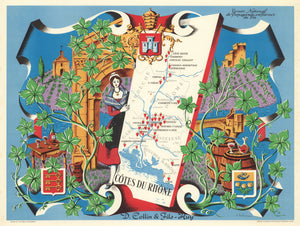 By: Remy Hetreau
Date of Original: 1950 (published) France
Original Size: 23.5 x 31 inches (59.7 x 78.75 cm)
This is a fine print reproduction of a marvelous promotional travel poster from 1954. It was part of a series of maps commissioned by the Comite National de Propagande en Faveur du Vin to celebrate and promote the legendary wine regions of France. Remy Hetreau, French illustrator and print maker took on this task, creating a set of magnificent posters highlighting local wineries of eight different regions.
The Map is dramatically embellished with crests and vines in the foreground and and background of vineyards with a historical church, and castle set on hilltops. Architectural elements of bridges and a large archway further decorate the image while barrels and filled wine glasses, a decanter, and open bottle entice the viewer for a drink. A maiden in traditional garb supports the rectangular map of the Rhone Region in France that starts just south of Lyon and follows the river valley to its terminus in the Mediterranean just west of Marseille.
The Rhone River Valley is divided into two sub-regions that produce red wines. The Northern Rhone is known for red wines from the Syrah grape, sometimes blended with up to 20% of white wine grapes. The Southern Rhone produces an array of red, white and rosé wines, often blends of several grapes. It is believed that the earliest cultivated vines in this region may have been planted sometime around 600 BC when the Greeks brought the Syrah grape to the region. Today over 6,000 wine growing properties including 1,837 private wineries and 103 cooperatives operate in the Rhone Valley.
Inventory #10776
Contact Us
Use the form below to ask questions about our fine print reproductions, give special requests, help us source the right map for you, customize your order, or sell us original maps you own to our sister company, New World Cartographic.
All you have to do is message or call us at (312) 496 - 3622.