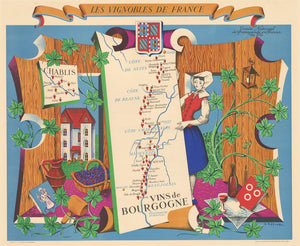 Date of Original: 1954 (published) Paris
Original Size: 25.5 x 31 inches (64.75 cm x 78.75 cm)
This is a giclée print reproduction of a marvelous promotional travel poster from 1954. It was part of a series of maps commissioned by the Comite National de Propagande en Faveur du Vin to celebrate and promote the legendary wine regions of France. French artist, illustrator and print maker, Remy Hetreau took on this task, creating some magnificent posters highlighting local wineries of eight different regions.
The fleur de lis and the French Lion are featured in a coat of arms at the top of the map. The title is contained in a ribbon cartouche at the top of the map. Here Hetreau positions his work on what resembles the sort of transportable countryside theater which was popular on the continent in the nineteenth and early twentieth centuries. A lovely French maiden directs our attention to the map which shows some of the most well-known wines of France and the areas in which the grapes from which the wines are made are grown. A small chateau brightens the background on one side, while implements of everyday life are scattered about the 'stage', including a large basket of beautiful grapes, an icon, a wooden mallet, and of course the obligatory wine bottle and goblet. 
Bourgogne (a.k.a. Burgondy) region in east-central France that is rich with history. It's famous for its Burgundy wines as well as pinot noirs and Chardonnay, Chablis and Beaujolais. The reputation and quality of the top wines, compounded with the fact that they are often produced in small batches, has consistently brought about strong demand and high prices. A few Burgundies rank among the most expensive wines in the world.
Inventory #10779
Contact Us
Use the form below to ask questions about our fine print reproductions, give special requests, help us source the right map for you, customize your order, or sell us original maps you own to our sister company, New World Cartographic.
All you have to do is message or call us at (312) 496 - 3622.