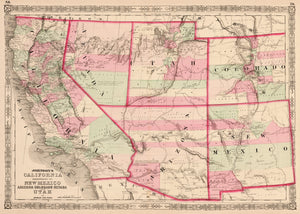 By: Johnson and Ward
Date: 1863 (Published) New York
Dimensions: 17 x 24.5 inches (44.5 x 62 cm)
This map reproduction depicting the state of California and the territories of Nevada, Utah, Colorado, New Mexico and Arizona by A. J. Johnson is one of the more scarce and historically significant maps of his southwest series. 
It shows in great detail important trails of the day such as the Santa Fe, the Pony Express Route, the trail of Fremont., and the Immigrant Road, to name but a few of the numerous overland routes depicted. A number of forts, Indian Reservations, surveys, mining districts of considerable variety, geological features and local political divisions are also rendered in detail. The amount of information rendered by Johnson is quite astonishing, and comprises an encyclopedia of wealth regarding the area covered by the map.
The original map of this region was published between 1861 and 1870 and went through a number of different states during this time period as Johnson strove to depict this critical period of westward expansion in the region. Thus, collecting the various states of this map has long been popular for Americana and southwestern map aficionados. The plates were updated annually and sometimes even issued in multiple variants in the course of a year.
While most of the maps of Johnson's 1863 atlas were based on earlier versions of the atlas's maps, this map was derived by dissecting plates of his 1859 wall map North America and then incorporating or superimposing more contemporary detail. This map shows considerably more detail in the mountainous regions of California, Nevada, and Colorado. Arizona and New Mexico appear as independent territories but, for the most part, adhere to the old 'New Mexico' county structure. The southern boundary of Nevada with Arizona is set such that Las Vegas is firmly within Arizona. The Utah-Nevada Border also varies from its contemporary setting. The Colorado Gold Region, which was first discovered in 1858, is well labeled.
Inventory #10993
Contact Us
Use the form below to ask questions about our fine print reproductions, give special requests, help us source the right map for you, customize your order, or sell us original maps you own to our sister company, New World Cartographic.
All you have to do is message or call us at (312) 496 - 3622.