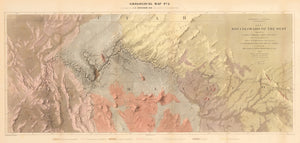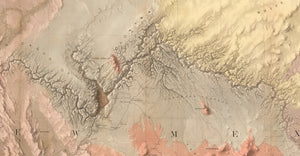 Geological Map No. 2 - Explorations and Surveys. War Department. Map No. 2. Rio Colorado of the West, explored by 1st Lieut. Joseph C. Ives, Topl. Engrs. under the direction of the Office of Explorations and Surveys. A.A. Humphreys, Capt. Topl. Engrs. in Charge, by order of the Hon. John B. Floyd, Secretary of War.
By: Joseph C. Ives Drawn by: Frederick Wilhelm von Egloffstein
Date of Original: 1858 (dated) Washington D.C.
Original Size: 14.5 x 34.25 inches (37 x 87 cm)
The is a fine print reproduction of the earliest geologic map of the Grand Canyon from the report of Joseph C. Ives; the first European American known to reach the river within Grand Canyon. The information shown in the map pre-dates the John Wesley Powell expedition of 1869.

This spectacular map shows the Grand Canyon in a wash of colors, representing the geologic time periods of the Cretaceous, Triassic, Carboniferous, and Tertiary, to name a few. Throughout the map are notations of peaks, water sources, forests, lagoons, Native American villages, ruins, and old trails. A key below the distance scale distinguishes the line of exploration, camps, and astronomical stations that can be traces throughout the map.

As described on the National Park Service website concerning the exploration history of the Grand Canyon and detailed within this map; "Army First Lieutenant Joseph Christmas Ives of the U.S. Army Corps of Topographical Engineers took on the adventure. He navigated up river using a fifty-foot long sternwheel steamboat, the Explorer. His plan was to steam up the Colorado River from the known into the unknown. He crashed just below Black Canyon, not yet in Grand Canyon itself, but continued upriver for another thirty miles in a skiff. Continuing on foot, his overland journey took him down into the canyon at Diamond Creek, today part of the Hualapai Indian Reservation. He is thus credited as the first European American known to reach the river within Grand Canyon."
Inventory #11162
Contact Us
Use the form below to ask questions about our fine print reproductions, give special requests, help us source the right map for you, customize your order, or sell us original maps you own to our sister company, New World Cartographic.
All you have to do is message or call us at (312) 496 - 3622.