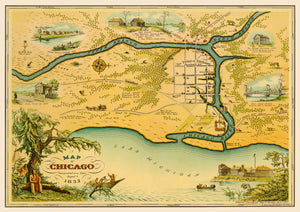 By: Walter Conley & D.E. Stelzer
Date of Original: 1933 (dated) Chicago
Original Size: 17.75 x 25.5 inches (45 x 64.75 cm)
This is a lovely pictorial map of the once sleepy town of Chicago as it was when incorporated in August of 1833. This historical map shows Chicago as viewed from Lake Michigan with west at the top. Prepared for the 1933 Chicago World's Fair dubbed "the Century of Progress," the map aimed to illustrate the incredible growth the city underwent in its 100-year existence. With the help of Caroline McIlvaine, who served as historical advisor, they did just that.
Flanking the map at the bottom is a scene of two natives resting below a shade tree, being waved to by a group of settlers and fur trappers in a canoe with another canoe heading towards old Fort Dearborn which rests on the banks of Lake Michigan. The town of Chicago, with a population of 350 is laid out in under 15 blocks along the south bank of the Chicago River, which has yet to be straightened by levees and piers. Important early establishments such as the Tremont House, 1st Catholic Church and 1st Public School, Sam Miller's Public House, and Wolf Tavern are noted throughout. 
The map is surrounded in the top, left, and right hand portions with a number of scenes detailing early view about and around the town of Chicago, including a view of "the Forks," where the two rivers converge at what is now known as "Wolf Point," and a depiction of the "First Draw-Bridge," at Dearborn St. Of course homage is paid to Chicago's name sake, the "Wild Onion," which was referred to by natives and early French explorers and fur trappers as "Che-ca-gou." This spelling and variations of it would appear on maps of the area in the place of present day Chicago for over a century before its existence. 
Inventory #11198
Contact Us
Use the form below to ask questions about our fine print reproductions, give special requests, help us source the right map for you, customize your order, or sell us original maps you own to our sister company, New World Cartographic.
All you have to do is message or call us at (312) 496 - 3622.