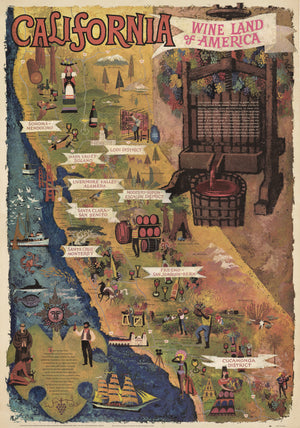 By: Amado Gonzalez
Date of Original: 1970s (circa) San Francisco
Original Size: 40 x 28 inches (102 x 71.2 cm)
This is a fine print reproduction of a vibrant vintage poster that presents much California with a focus on the wine regions. It was originally published by the 'Wine Advisory Board', to advertise the state's ever-increasing contribution to the wine-producing industry of the USA. The imagery of the poster conveys the multi-faceted aspects of the industry in the state, along with the many layers of culture which have contributed to its becoming a major wine-producing center.
Many easily recognized iconic figures are depicted, covering the early days of European settlement when early Spanish Franciscans planted the first vineyards to the wide variety of tourist attractions which bring vacationers from around the world to the state. Historical Spanish architectural edifices, a Mariachi singer with guitar, a senorita holding a cornucopia filled with a variety of grapes are a few of the images used by Gonzalez.
Hollywood is represented by a simple movie camera on a tripod, cars driving through a great sequoia are a reminder of the natural wonders of the state, as do images of Mt. Whitney and Death Valley. Depicted offshore we find a marvelous schooner under full sail, porpoises and other sea creatures representing the fishing industry, and in the north felled trees suggest the timber industry which was still active in the 1970s.
Inventory #11379
Contact Us
Use the form below to ask questions about our fine print reproductions, give special requests, help us source the right map for you, customize your order, or sell us original maps you own to our sister company, New World Cartographic.
All you have to do is message or call us at (312) 496 - 3622.