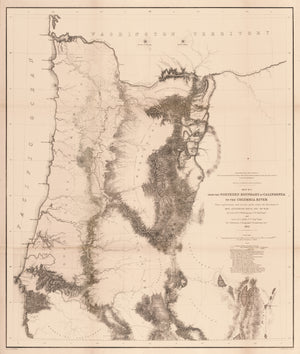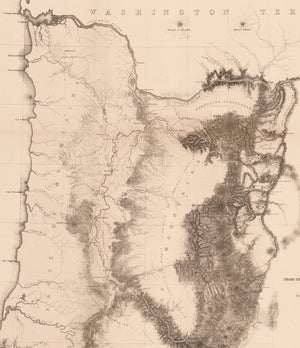 Map No. 2 From the Northern Boundary of California to the Columbia River from explorations and surverys made under the direction of Hon. Jefferson Davis. Sec. of War
By: Lieuts. R.S. Williamson and H.L. Abbot
Date of Original: 1855 (dated) U.S. Pacific Railroad Surveys

Original Size: 28.5 x 24 inches (72.5 x 61 cm)

This is a fine print reproduction of a mid-19th century map of the Oregon Territory that is both impressive in detail while igniting a sense of adventure with regards to several places noted as "Unexplored." The map covers the region from the Siskoyou Range and Klamath Lakes north to Mount St. Helens and Mount Adams, just above the Columbia River.
As noted above the title, the map was made for the U.S. Department of War to present the explorations and surveys of the area for a railroad route that would run from the Mississippi River to the Pacific Ocean.

An interesting notation providing pertinent information for any potential railroad reads "Heavily timbered Ridged separated by immense ravines," can be found along the western side of the Cascade Range. Additionally, this map delineates the emigrant road, various routes of the surveying parties, the historical routes of Fremont and Warner, some of the earliest settlements and young would be cities of Eugene and Portland.
Inventory #11400
Contact Us
Use the form below to ask questions about our fine print reproductions, give special requests, help us source the right map for you, customize your order, or sell us original maps you own to our sister company, New World Cartographic.
All you have to do is message or call us at (312) 496 - 3622.