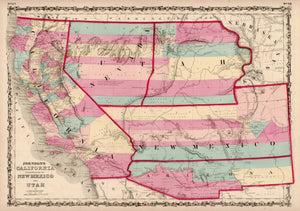 By: Johnson & Browning

Date of Original: 1862 (published) New York

Original Size: 17 x 24 inches (43.2 x 61 cm)

This is a fine print reproduction of an original antique map of the state of California, along with the territories of Nevada, Arizona, New Mexico, Utah, and Colorado, printed in 1862 by Alvin J. Johnson.

This is an early and notable state of Johnson's map of the Southwest presenting the state of California and territories of Nevada, Utah, Colorado, and New Mexico with Arizona resting due south. Also shown along the northern border of the map are the newest state of Oregon (1859) and the territories of Washington and Nebraska. This is the first time that Colorado appeared on a map as a territory. Many counties run the length of more than one territory. California has not yet taken its present shape as the eastern border of the runs along the Sierra Nevada Mountains.

Throughout this map are numerous locations of Native American tribes, rivers, railroads and mining districts. Also depicted in the map are routes of explorers that include Fremont (1844), Major W.H. Emory (1846), and Gunnison (1853), which also notes where he was killed by the Indians within the Utah Territory. Text regarding the evolution of the U.S. / Mexico boundary as well as geographical description appears in the bottom half of the map. During this period of U.S. western expansion, the borders of the territories changed on a near annual basis. Anyone looking to put together a comprehensive collection of Western American maps most certainly would have to include a few variations of these Johnson's maps.

Inventory #11496
Contact Us
Use the form below to ask questions about our fine print reproductions, give special requests, help us source the right map for you, customize your order, or sell us original maps you own to our sister company, New World Cartographic.
All you have to do is message or call us at (312) 496 - 3622.