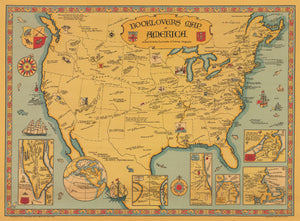 By: Paul M. Paine / published by R.R. Bowker Company

Date of Original: 1926 (published) New York

Original Size: 20.75 x 28.25 inches (52.7 x 72 cm)

A fine print reproduction of an interesting, scarce pictorial map is dedicated to the locations which mark many of the principal works of American literature. In other words the actual geographical locations of the plots of those works are marked on the map in some way. Novels whose plots take place in multiple locations, such as the Grapes of Wrath are indicated by dotted lines which trace the itinerary of the story.

Starting in the NE, Paine has noted 'The Land of Evangeline', referring of course to Longfellow's epic poem about the French enclave Acadie and the two young lovers Evangeline Bellefontaine and Gabriel Lajeunesse, who were torn apart on their wedding day as the British began deportation to far-off places at the time of the Acadian exile.

Countless other literary works or folk legends are named or referred to in iconic vignettes including The Red Badge of Courage, The Virginian, Leatherstocking Tales, Sleepy Hollow and Paul Bunyan to name a few, with something of note remarked on each of the 48 states. . It also includes the birthplaces and homes of several important writers. Insets around the outside of the map provide additional information about certain cities which have particular literary significance.

The insets feature Massachusetts, Nova Scotia, New Jersey, Manhattan, Chicago and California, plus one of the globe. Countless vignettes embellish the map featuring ships of all kinds, fish, a shield with motifs represents love, war, agriculture and the future (a cradle). Others include a covered wagon, and flora and fauna indigenous to the USA. Two heraldi-type crests are featured in the title cartouche.

The mapmaker Paul Mayo Paine (who typically signed his maps Paul M. Paine) designed or co-designed several pictorial maps during the 1920s and 1930s. He served as a librarian at the Syracuse [New York] Public Library from at least 1919 to at least 1931, and was active in the American Library Association. His maps reflected his interests and his occupation as a librarian, with either literary or historical themes proliferating.
Inventory #11635
Contact Us
Use the form below to ask questions about our fine print reproductions, give special requests, help us source the right map for you, customize your order, or sell us original maps you own to our sister company, New World Cartographic.
All you have to do is message or call us at (312) 496 - 3622.