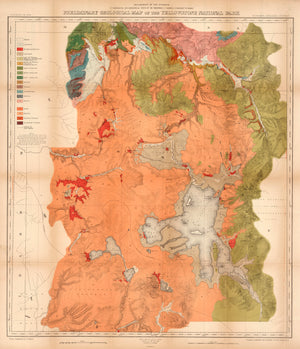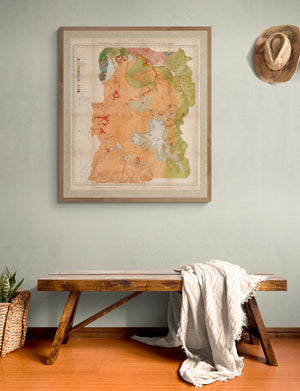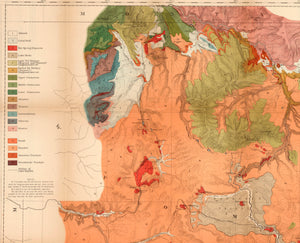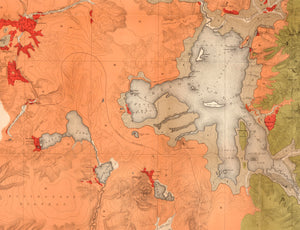 By: Ferdinand V. Hayden
Date of Original: 1878 (published) Washington D.C.
Original Size: 35 x 30 inches
One of the earliest maps of Yellowstone National Park (est. 1872). The map features the most recent findings by land surveyors and geologists to study the region, which is known worldwide for its unique landscape, geologic makeup, and thermal activity.
This is a fine print reproduction of a remarkable large format map of Yellowstone National Park that was created by Ferdinand V. Hayden for the second surveyor's report  prepared for the Department of the Interior. The map includes the entirety of Yellowstone with, which resides primarily in Wyoming, with portions extending into Idaho nd Montana. It is color coded by geologic makeup, and geochronology, which dates rock formations and layers by geological events. Such classifications in the key include Upper, Middle, and Lower Cretaceous, Jurassic, Triassic, and carboniferous layers as well as lake beds, and of course, hot spring deposits.
Many popular eco-tourist sites are noted throughout the map, including Yellowstone Lake, Shoshone Lake, Upper and Lower Geyser Basin, Mammoth Hot Springs, Twin Buttes, East Gallatin Range, Yellowstone River, Obsidian Canyon, and Crystal Falls to name a few. Also noteworthy is the Continental Watershed (Continental Divide), which is delineated from the center-left to lower-right portion of the map.
Yellowstone was first discovered by the United States through the privately financed Cook–Folsom–Peterson Expedition of 1869. When word of the natural wonders they witnessed reached back east, the Washburn Expedition of 1870 was sent to explore the region further. The Hayden Expedition soon followed in 1871 and on March 1, 1872, President Ulysses S. Grant signed the Yellowstone National Park Protection Act into law, officially declaring Ye4llowstone at the world's first national park.
Inventory #11648
Contact Us
Use the form below to ask questions about our fine print reproductions, give special requests, help us source the right map for you, customize your order, or sell us original maps you own to our sister company, New World Cartographic.
All you have to do is message or call us at (312) 496 - 3622.