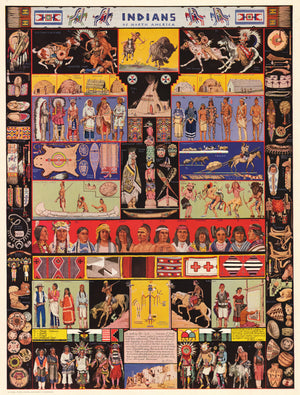 By: Joseph (Jo) Jacinto Mora
Date of Original: 1936 (published) Monterey, CA
Original Size: 31.5 x 24 inches (80 x 61 cm)
This is a fine print reproduction of an imaginative and educational chart celebrating Native American people and their culture by Joseph Jacinto Mora. Described by Mora as a "carte," this piece is absolutely loaded with information and imagery that not only educates the viewer, but inspires them to dig deeper into their own research of the North American Aboriginal.

From top to bottom, this carte illustrates hunting and horse-riding techniques, dwellings, garb, modes of transportation, varying styles of blankets, pottery, clothing, jewelry, and art found among the native tribes of North America. Symbols can be found throughout differentiating the locations of these tribes, from Florida to the Northwest Coast, the plains tribes to the forests and pueblo dwelling peoples. Individual tribes noted within include the Navajo, Hopi, Mandan, Seminole, Iroquois, Walapai, Apache, and Comanche to name a few.

In the lower portion of this carte, Mora writes that producing this work was much harder than anticipate, not for a lack of material to include, but a lack of space for all the material and knowledge he desired to portray. Conveys his hopes that the viewer "will derive some measure of instruction and pleasure from its perusal and that it may stimulate a desire for further study of our Aboriginal Americana."

Joseph Jacinto Mora (1876 - 1947) was a Uruguayan-born American cartoonist, comics artist, sculptor, illustrator, and cowboy. Before spending the later years of his life in Monterey-Carmel, California, Mora lived with the Hopi and Navajo near Oraibi, Arizona from 1904 - 1906. During this time he took photographs, painted and otherwise recorded the daily life of these Native Americans, including the Hopi Snake Dance. He learned the Native languages and made detailed drawings of what he observed.
Inventory #11773
Contact Us
Use the form below to ask questions about our fine print reproductions, give special requests, help us source the right map for you, customize your order, or sell us original maps you own to our sister company, New World Cartographic.
All you have to do is message or call us at (312) 496 - 3622.