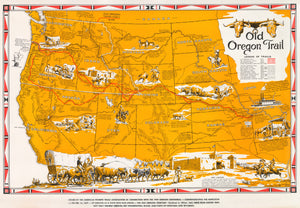 By: American Pioneer Trails Association

Date of Original: 1959 (dated) Manchester, NH

Original Size: 17.5 x 24.5 inches (36.8 x 64.8 cm)

This is a fine print reproduction of a bold, vintage pictorial map that presents the Oregon Trail and many other of the trails of western exploration and expansion, dating from 1785 and through much of the 19th century.

Though the map shows trails through 1866 officially, many of the trails or parts of them were still in use right up to the early 20th century when homesteaders headed west. The map includes such famous trails as the Old Oregon Trail and its deviations, the Old Spanish Trail, the Lewis and Clark route, the Santa Fe Trail, Fremont's Trail, the Mormon Trail, the Naches Pass Trail, the Overland Stage Route the Pony Express and Bozeman Trails and the Butterfields Denver Stage.

The monumental push westward from the region of the Mississippi River is beautifully illustrated with myriad scenes depicting life experiences of, as is stated on the map, 'explorers, trappers, missionaries, and covered wagon home seekers, all of whom would eventually settle in the far corners of the country'.

Vignettes depicting historical details are included at especially noteworthy junctures and accompanied by descriptive texts. All major rivers and their tributaries are delineated, countless forts throughout the country, including such famous sites as Fort Mandan, which Lewis and Clark made their winter headquarters in 1805-1806 are named. Major cities and small towns are included, as are places such as Sutter's Mill of Gold Rush fame.

This engaging map, illustrating these trails in a bright and colorful format is an ideal piece for young enthusiasts of American history and cartography.
Inventory #11859
Contact Us
Use the form below to ask questions about our fine print reproductions, give special requests, help us source the right map for you, customize your order, or sell us original maps you own to our sister company, New World Cartographic.
All you have to do is message or call us at (312) 496 - 3622.