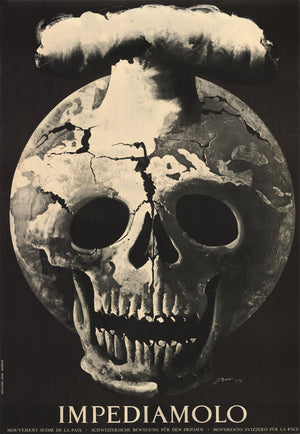 IMPEDIAMOLO 
Map Maker: Hans Erni
Date of Original: 1954 (published) Geneva, Switzerland
Original Size: 50 x 34.5 inches (127 x 87.6 cm)
This is a fine print reproduction of a rare persuasive anti-war propaganda poster by Hans Erni (1909-2015) of Geneva, Switzerland. It was made in the name of peace and a protest to the many horrific events and destructive nature of WWII.
The poster presents a very life-like human skull in every respect, save for the shape of the head which is made to resemble the world. Italy, Sicily and the Mediterranean can be found just above the skull's left eye socket and much of South America next to the right eye socket. The nasal cavity and teeth of the skull are very anatomically accurate a real human skull was likely procured as part of the process of creating the image.
What's most obvious of course is the mushroom cloud exploding above what would be the location of Germany, France, and the United Kingdom, which was area where most of the fighting, and death of WWII took place. The mushroom cloud bares multiple meanings as it not only references the death and destruction in Europe, but the Atomic Bomb dropped by the United States on Nagasaki and Hiroshima in August of 1945. A third take on the explosion protruding from the skull is Hand Erni's insinuation of the idiotic self-destructiveness of war on the world as a whole.
The fact that this poster was produced in Switzerland only adds to the abhorrent view of war portrayed in the work. During both World War I and World War II, Switzerland maintained armed neutrality, and was not invaded by its neighbors. Consequently, it was of considered as a place for diplomacy, espionage, and commerce, as well as a safe haven for refugees. 
The title of the poster "IMPEDIAMOLO" translates to "Let's Prevent It." The text at the bottom, which is written in French, German, and Italian (all neighboring languages of Switzerland) translates to "Swiss Movement for Peace."
Inventory #11916
Contact Us
Use the form below to ask questions about our fine print reproductions, give special requests, help us source the right map for you, customize your order, or sell us original maps you own to our sister company, New World Cartographic.
All you have to do is message or call us at (312) 496 - 3622.