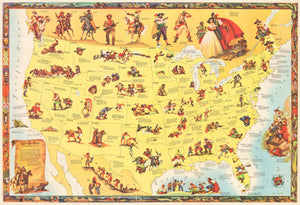 Wild Bill Hickok Treasure Map
By: Bob Glaubke Published By: Rand McNally & Company
Date of Original: 1952 (published) Chicago
Original Size: 24.5 x 36 inches (62 x 91.5 cm)
This is a fine print reproduction of a mid-century. pictorial, treasure map of the United States noting the approximate locations of hundreds of millions of dollars worth of treasure, pirate gold, bandit loot, hoarded wealth and Spanish riches. 
This map was produced as a promotional piece for the Wild Bill Hickok show that ran for eight seasons from April 15, 1951, through September 24, 1958. It is offered complete with the original mailer and the "Wild Bill Hickok Secret Treasure Guide" that along with its own map, lists the approximate locations of over 300 treasure sites throughout the continental United States.
As previously stated, the map is pictorial in nature with imagery representing the Plains Indians, Desperados, Bandits, Forty-Niners, Conquistadores, Buccaneers, and many other noteworthy individuals associated with buried treasure. Events and scenes are depicted from end-to-end and the entire map is surrounded by a decorative border with elements of the American West and the Caribbean Sea, where many of the stories of lost treasure originate. 
Let this map be an inspiration for your own adventure for hidden treasure. Though none of the information provided will give you the exact whereabouts of these lost riches, it's a good starting point for any quest to find a buried treasure. If you are successful, the map will have paid for itself many times over! 

Inventory #11919
Contact Us
Use the form below to ask questions about our fine print reproductions, give special requests, help us source the right map for you, customize your order, or sell us original maps you own to our sister company, New World Cartographic.
All you have to do is message or call us at (312) 496 - 3622.