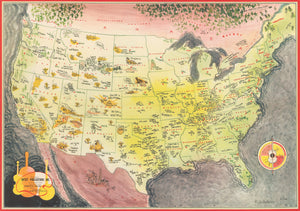 Country Music and Folk Culture Map of the United States
By: M. Smith
Date of Original: 1954 (published) Cincinnati, Ohio
Original Size: 13 x 18.5 inches (33 x 47 cm)
This is a fine print reproduction of a rare and whimsical pictorial map dedicated to the history of country music, folk-culture, and the American Frontier with numerous references to Native American history.
The fun map is loaded with the names in the location of the birthplace of many country music artists, American authors, historical figures, and cultural icons, such as Redd Stuart, Smokey Rogers, "Tex" Williams, Mark Twain, Jesse James, and John Wayne, to name a few. Other places noted in the map include the Grand Ole Opry, Geronimo's Camp in southern Arizona, the location of the first rodeo in  1882, Custer's Last Stand, and several Native American reservations.
State lines are delineated, capitols are marked, and major cities such as San Francisco, Los Angeles, Chicago, Miami and New York are noted with hatch marks. Several humorous vignettes can be found throughout the map and a delightful compass rose made of guitars adorns the lower right corner.
This is a most unique map, with a lot to discover once one takes the time to dive in and do some research. A must have for any fan of "old-timey" country music, American folklore, and history. 
Inventory #11964
Contact Us
Use the form below to ask questions about our fine print reproductions, give special requests, help us source the right map for you, customize your order, or sell us original maps you own to our sister company, New World Cartographic.
All you have to do is message or call us at (312) 496 - 3622.