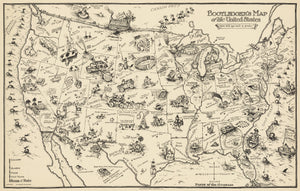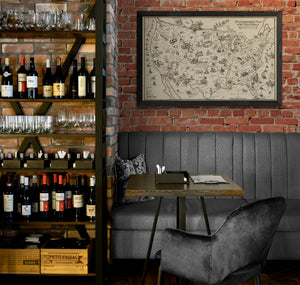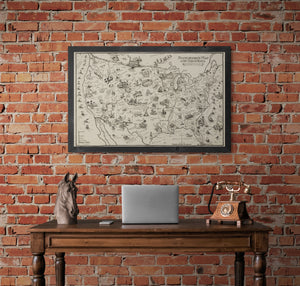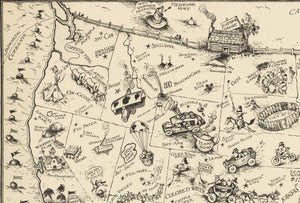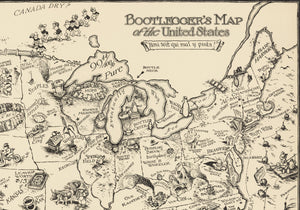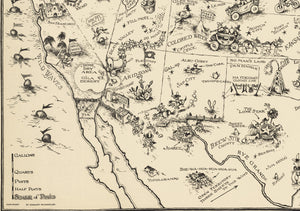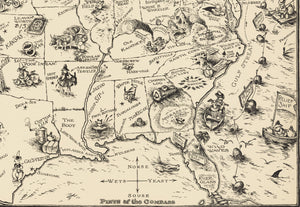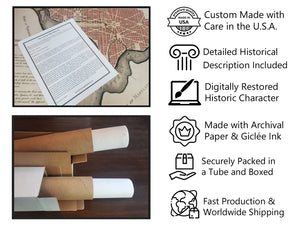 Bootlegger's Map of the United States
By: Edward McCandlish  Published By: Griswold Press
Date of Original: 1926 (cpublished) Detroit
Original Size: 21.5 x 33.75 inches (54.6 x 85.75 cm)
This is a fine print reproduction of an early example of the iconic Bootlegger's Map, created as a parody on the Volstead Act that brought about the prohibition era of the 1920s and sharp rise in power and influence of organized crime across America.

This awe-inspiring pictorial map was originally published in the Washington Post by a staff cartoonist Edward Gerstell McCandlish (1887 - 1946) who at the time was known for his illustrated a Sunday column "Bunny Tots." The satirical map caught the attention of many, including the Griswold Press in Detroit Michigan of which this example was published. Detroit and the rest of the state of Michigan had a long-standing experience with prohibition as it had passed the Damon Law of 1917, which prohibited the bringing or carrying into the state, or the receipt or possession of any intoxicating liquors.

The map features a wide array of whimsical pictographs, mocking places and cultures throughout the United States with a common theme of beer, wine, and spirits. Nearly every placename is written as a play-on-words such as Chi-Keg-O, Albu-Corky, spo-Can, Vir-GIN-ia, and Port-Land to name a few. The map features a scale of distance in pints, and a compass rose with "Pints of the Compass" reading "Norse," "Souse," "Yeast," and "Wets." The "12 (nautical) Mile Limit" of the territorial sea in which the U.S. Coast Guard had jurisdiction is delineated in the Pacific and Atlantic by a string of floating kegs or barrels (suggestively containing alcohol).

Other imagery is very indicative of the 1920s. For example, in Florida there are two signs reading "Real Estate," and "Lots for Sale," representing the speculative land boom and real estate bubble that brought about the creation of new cities out of the Everglades, hasty construction of flimsy homes and stores, and numerous failed development projects, which ultimately shaped the future of Florida for decades to come.

The Bootlegger's Map of the United States has gone down as one of the "must-have" pictorial maps of the 20th century. It has been reproduced several times over by other publishing companies in slightly altered forms and later with color. This example lacking a copyright date suggests that it may be a very early example and possibly a pre-publication or proof state.

Inventory #11969
Contact Us
Use the form below to ask questions about our fine print reproductions, give special requests, help us source the right map for you, customize your order, or sell us original maps you own to our sister company, New World Cartographic.
All you have to do is message or call us at (312) 496 - 3622.