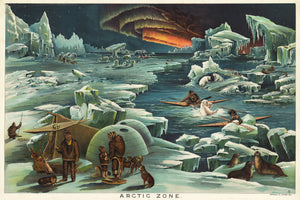 By: Levi Walter Yaggy

Date of Original: 1893 (published) Chicago, IL
Original Size: 24 x 36 inches (61 x 91.5 cm)
This is a fine print reproduction of a late 19th century lithograph print illustrating the Arctic Zone (which includes the Antarctic Zone), that begins at 66° north (and south) of the equator. The original appeared in the 1893 edition of Levi Walter Yaggy's Geographical Portfolio, which was published as an educational tool for high schools and colleges. The entire portfolio consisted of nine illustrated charts, and maps as well as two movable diagrams of presenting celestial phenomena, all housed in a wooden cloth-wrapped case.
Yaggy's depiction of the Arctic Zone is an absolutely remarkable work of artistry, with vibrant color and lively scenes showcasing the people and animals of the polar circle. Groups of Inuit Natives are shown with their iconic igloo dwellings, methods of travel via dogsled, fishing in an ice hole, and hunting a polar bear at sea by kayak. Sea lions, walruses, and penguins are also shown, though in a slightly misleading way as polar bears and penguins do not coexist within the same polar circle. In the background, a wooden schooner lay wrecked, crushed by the ice; the fate of many exploratory vessels that ventured into the region for centuries prior. Atop the print, the lights of the aurora borealis adds an undeniable element of mystique to the entire work.        
Chromolithography or Multi-stone Printing

The original print and others from Yaggy's Geographical Portfolio were produced using multi-stone chromolithography, a method of color printing by multiple applications of lithographic stones, each using a different color ink. Previously, lithographs were printed in black and white and then colored by hand, often times with watercolor paint. This method was not only more suitable for mass production, but also resulted a much more vibrant image. 
Levi Walter Yaggy (1848 - 1912) Was born in Plainfield Illinois to Jacob and Elizabeth Yaggy. He attended Northwestern College in Naperville, Illinois before moving to Chicago where he would found the Great Western Publishing House in 1874. He business would enjoy great success, ultimately expanding to include seventeen branch offices throughout the United States and employing thousands. Yaggy primarily focused on creating maps and educational books and portfolios for high schools and colleges that included "Museum of Antiquity; A Description of Ancient Life...," "The Standard History of All Nations and Races…," and "Yaggy's Anatomical Study; Presenting the Skeleton, Muscles, Arteries, Veins and Nerves...," among others.
Inventory #12231
Contact Us
Use the form below to ask questions about our fine print reproductions, give special requests, help us source the right map for you, customize your order, or sell us original maps you own to our sister company, New World Cartographic.
All you have to do is message or call us at (312) 496 - 3622.