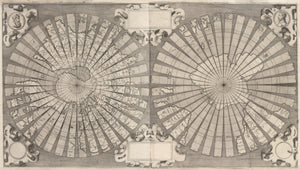 By: Antonio Floriano
Date: 1555 (circa) Venice
Original Size: 16.5 x 33.5 inches (42 cm x 85 cm) 
This is a truly wonderful
reproduction
 of the highly sought after and exceedingly rare map by Antonio Floriano, first published in Venice, circa 1555. The map is based (in places directly) on Gerard Mercator's double-cordiform map of 1538, with Mercator place names and geography taken without change.  In order to publish his map, Floriano appealed to the Doge of Venice for 'privilege to print a map of the world'. It is known that in 1555, Antonio Floriano of Udine addressed himself to the Doge of Venice to obtain a privilege to print a map of the world.
Floriano wrote:

"I, Florian, the very loyal servant of Your Highness and of this Illustrious Republic, with my diligence and knowledge having made a mappemonde which has never been made before, with the aid of which one can easily study and learn cosmography and see the entire picture of the world, since it can be reduced to spheric form."

Floriano also claimed that the map was made by him "with so much drudgery and sweat, with more heavy toil your enlightened judgement can imagine".
On receipt of said privilege from the Venetian State, this brilliant oeuvre was engraved and printed.Fine example of Antonio Floriano's rare separately issued two sheet map of the World, believed to have been published in Venice, some time between 1545 and 1555. 
America is shown as being entirely separate from Asia, and divided into two labeled continents, north and south. Both the North Pole and South Pole consist of an enormous landmass. This rare and unusual map depicts the two hemispheres each cut into thrity-six gores comprising 10 degrees of longitude each.

The original map is exceedingly rare, with only a few examples appearing on the market in the past 30 years. 
Inventory #81010
Contact Us
Use the form below to ask questions about our fine print reproductions, give special requests, help us source the right map for you, customize your order, or sell us original maps you own to our sister company, New World Cartographic.
All you have to do is message or call us at (312) 496 - 3622.