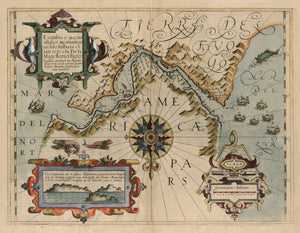 By: Gerard Mercator
Date: 1613 / Amsterdam
Original Size: 14 x 18 inches (35.5 x 45.7 cm)
This is a reproduction of an authentic antique map of the Straits of Magellan and Terra del Fuego. The original map was published in Gerard Mercator's "Atlas sive Cosmographicae Meditationes…" out of Amsterdam in 1613.
Centered on an exquisite compass rose, this map bears a southern projection with North pointing towards the bottom of the map. While the Strait of Magellan is the focus of the map, one must note the southern land titled Terra Del Fuogo is mapped with a mountainous and well defined coastline extending into the unknown southern continent. This map predates the discovery of the route around Cape Horn by Schouten and LeMarie in 1616 that ultimately proved that Terra del Fuego was an island.
Not only is this map the first map of the Strait of Magellan to appear in a commercial atlas, it's one of a few sea charts produced by Mercator. From end to end, the strait is loaded with various soundings and about 17 place names. The lower left portion of the map features a view of the entrance to the Strait, likely derived from earlier Dutch books. Several sailing ships, a large sea monster and a sea lion family embellish the map. The title cartouche is that of early baroque style and is flanked by two penguins. Another distance scale cartouche fills the lore right.
This is a great piece for anyone with an interest in early exploration. For over 100 years, the Strait of Magellan was believed to be the only sure way to sail from the Atlantic to the Pacific. Not much changed when Cape Horn was circumnavigated in 1616. As countless attempts to find a Northwest Passage proved unsuccessful for hundreds of years, the Strait of Magellan continued to be used extensively until the opening of the Panama Canal in 1914.
Inventory #18771
Contact Us
Use the form below to ask questions about our fine print reproductions, give special requests, help us source the right map for you, customize your order, or sell us original maps you own to our sister company, New World Cartographic.
All you have to do is message or call us at (312) 496 - 3622.