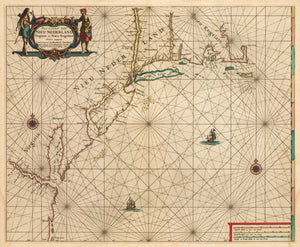 By: Hendrick Doncker
Date: 1660 (dated) Amsterdam
Original Size: 17.5 x 21.5 inches (44.5 x 54.6 cm)
This is Vintage Map Print Shop reproduction of the map of the eastern seaboard of the United States by Hendrick Doncker, made in Amsterdam in 1660. It is the first state earliest obtainable Dutch sea chart of the New Netherlands and widely regarded as one of the most accurate of its time.
Donker's sea chart of the region is preceded by the charts of Jacobsz (c.1650) and Colom (1656), both of which are regarded as unobtainable. At the time, the Dutch were producing the best sea charts of nearly every navigable coastline throughout the world. Of the Dutch map makers that specialized in sea charts, Donker's were regarded as the most accurate and up to date to be published during the second half of the 17th century. Unlike his contemporaries, Goos, Lootsman, Van Loon, and others, Doncker made a point to correct and improve his charts so that any obsolete copies would be replaced by new, revised versions. For this reason, his works were in high demand and he attained a considerable amount of success at a rather early age.
In this chart, Doncker presents the eastern seaboard from just south of the Chesapeake Bay to the New England coastline just north of Cape Cod. In vicinity of present day New York, places such as Staten Island, Nieu Amsterdam, and Manhattans are named. The Hudson River is extended to just north of Fort Orange, which is the location of present day Albany. Early settlements, Native American tribes, and several forts are located and named throughout the chart. Burden notes that much of the chart follows the Colom map from 4 years prior. This first state is identified by the printed date of 1660 in the title. The map was revised over its publication history for two later states released c.1669 and c.1676.
 Inventory #18516
Contact Us
Use the form below to ask questions about our fine print reproductions, give special requests, help us source the right map for you, customize your order, or sell us original maps you own to our sister company, New World Cartographic.
All you have to do is message or call us at (312) 496 - 3622.