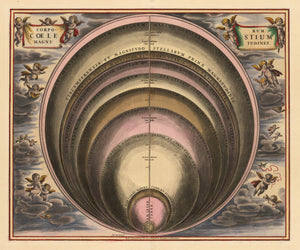 By: Andreas Cellarius - pub. by Valk & Schenk

Date: 1661 / 1708 (published) Amsterdam

Dimensions: 17 x 20 inches (40.5 x 45.5 cm)
A fine print reproduction of a beautiful celestial map by the famous cosmographer Andreas Cellarius, showing the relative sizes of different celestial bodies. Various planets and stars are depicted, as well as the Earth, moon, and sun. Includes diameter measurements. Images of cherubs surround the chart.

Andreas Cellarius was a well-known celestial cartographer of the late 17th and early 18th centuries. His attractive, beautifully engraved charts depicted theories and evolution in the field of astronomy, from the theories of Ptolemy and Copernicus through the Age of Exploration and its period of scientific development in Europe. This chart originally appeared in Cellarius' landmark celestial atlas, 'Atlas Coelestius seu Harmonia Macrocosmica,' which is known as the finest and most ambitious work of its kind. Cellarius' original plates for this atlas were reprinted in 1708 by the firm of Valk & Schenk.
Inventory #10951
Contact Us
Use the form below to ask questions about our fine print reproductions, give special requests, help us source the right map for you, customize your order, or sell us original maps you own to our sister company, New World Cartographic.
All you have to do is message or call us at (312) 496 - 3622.