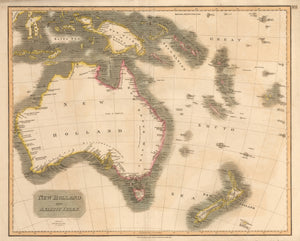 By:
 

John Thomson
Date:
 

1814 (dated) Edinburgh
Original Size:
 

19.5 x 24.25 inches (49.5 x 61.5 cm)
This is a fine print reproduction of one of the earliest large format maps to focus on the entire continent of Australia.
Only 10 years prior to the making of this map did Matthew Flinders become the first explorer to circumnavigate the continent which was then known as New Holland. Ten years after this map was made, Australia became the official name of this great continent. The impressive map extends far enough to include New Guines, portions of the Philippines, Fiji, the Solomons, and New Zealand.
The while the map provides great detail to the coastline of Australia, the vast interior is void of any detail. Thomson does however include the names of various explorers responsible for the European discovery and mapping of the continent as well as they years they arrived. Other descriptive details such as "high trees, natives seen," "no fresh water found here," "inhabitants found here were black," and "the land here is very arid," can be found within the map.
John Thomson
 

(1777-1840) was a Scottish cartographer based out of Edinburgh who is most well-known for his 1817 New General Atlas. This monumental work provided maps of great detail for nearly every country and island across the world. While other map makers would fill empty and unknown spaces with vignettes and geographical assumptions, Thompson elected to leave such spaces void of any uncertain cartography.
Inventory #11213
Contact Us
Use the form below to ask questions about our fine print reproductions, give special requests, help us source the right map for you, customize your order, or sell us original maps you own to our sister company, New World Cartographic.
All you have to do is message or call us at (312) 496 - 3622.