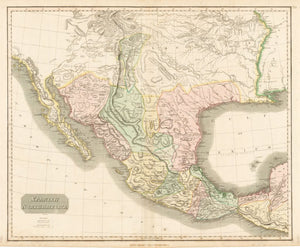 By: John Thomson
Date: 1814 (published) Edinburgh
Original Size: 22 x 24.5 inches (56.5 x 62.25 cm)
This is a reproduction of an authentic, antique map of Mexico, the Louisiana Territory, and the southwestern portion of the present day United States, by John Thomson. This is the first edition of the map, published in Edinburgh in the year 1814.
This main focus of this map is on the Spanish possessions in North America during the first quarter of the 19th century, when conflict between the United States and Spain really began. Spanish control is shown to extend with a narrow strip up through present day New Mexico with the towns of Santa Fe and Albuquerque included in the New Mexico Territory. Just south of the Louisiana Territory, present day Texas is depicted under Spanish control. A city named Texas appears in the vicinity of present-day Austin. Just east of the Louisiana Territory, the city of New Orleans is shown in West Florida.
Much of the geographic information comes from the epic Humboldt and Pike expeditions. Generally speaking, the further west we move, the less information is available. Aside from the coast of California, much of the southwest is left blank with the words "unknown parts," appearing in present-day Arizona. Above the New Mexico Territory, a mountain accepted among antiquarians as Pike's Peak in Colorado is noted as the highest peak. As we move east of the Rocky Mountains, the delineation of the great western river systems, particularly the Platte flowing east and south of the Rocky Mountains become quite detailed and accurate. Throughout the map locations of Indian tribes, villages, and hunting grounds are noted.
Inventory #19322
Contact Us
Use the form below to ask questions about our fine print reproductions, give special requests, help us source the right map for you, customize your order, or sell us original maps you own to our sister company, New World Cartographic.
All you have to do is message or call us at (312) 496 - 3622.