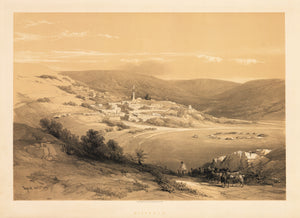 By: 
David Roberts
Original Date:
1844 (Published) London by F.G. Moon
Size of Original:
16.75 x 23.5 inches (42.5 cm x 60 cm), image size- 20.5 x 15.5 inches
This lovely impeccably preserved lithograph of Nazareth is taken from a drawing done by David Roberts on 28 April 1839, as is attested to by the author in his own hand. Louis Haghe was responsible for the transformation of sketch to lithograph.

This particular lithograph is in perfect condition, and demonstrates some of the finest work by both men. The area in which the city is located is said to have been inhabited for more than 9,000 years, prospering at times and dwindling almost to nothing at others. In 1839 it was a sleepy village. Believed by Christians to have been the home village of Mary and the place where Jesus himself lived for some time, as well as the site of the Annunciation, the city is an important focal point for Christian pilgrimages.
The vantage point from which Roberts sketched the city reveals a goatherd leading his flock toward a small ancient settlement with walled fortifications, ruins, and a mosque replete with minaret. A group of people stand near to a circle of tents in an open plain below the city.
Louis Haghe was a master lithographer who, in Roberts' own words reproduced his drawing(s) 'with a masterly vigour and boldness which none but a painter like him could have transferred to stone… Haghe has not only surpassed himself, but all that has hitherto been done of a similar nature'. Roberts' original drawings when compared with the lithographs created by Haghe show that he conveyed the spirit of the original work in a masterly way.
Inventory #19736
Contact Us
Use the form below to ask questions about our fine print reproductions, give special requests, help us source the right map for you, customize your order, or sell us original maps you own to our sister company, New World Cartographic.
All you have to do is message or call us at (312) 496 - 3622.