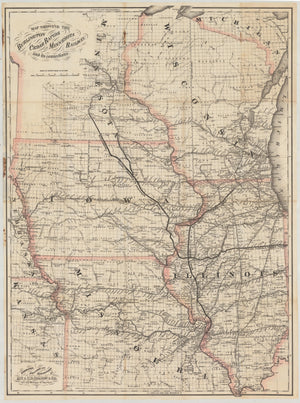 By: G. W. & C.B. Colton
Date: 1868 (dated) New York
Original Size: 34 x 25 inches (83.8 cm x 61 cm)
This is a Vintage Map Shop reproduction of an authentic, antique railroad map that includes the states of Illinois, Wisconsin, Missouri, Iowa, and Minnesota, with parts of Michigan, Nebraska, and Kansas. The map was published along with a booklet by G.W. & C.B. Colton out of New York in 1868.
This map centers on the Burlington Cedar Rapids and Minnesota Railway, which runs from Burlington, Iowa to Mankato, Minnesota. Several other railroads are depicted including the Toledo Peoria & Warsaw, Illinois Central, Milwaukee & Mississippi, and the Rockford Rock Island & St. Louis railroads. Though exact borders are not included, all counties are named, as well as numerous cities, towns, and river systems.
The map was issued as part of a bond offering to raise funds for the line, offering investors a 7% return (the company later went bankrupt). The booklet consists of 36-pages of text that includes a statistical table showing the population and productions of the counties in Iowa through which the Burlington, Cedar Rapids and Minnesota railway passes.
Inventory #19039
Contact Us
Use the form below to ask questions about our fine print reproductions, give special requests, help us source the right map for you, customize your order, or sell us original maps you own to our sister company, New World Cartographic.
All you have to do is message or call us at (312) 496 - 3622.