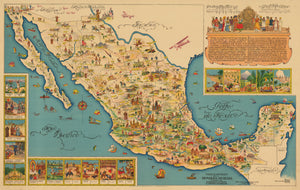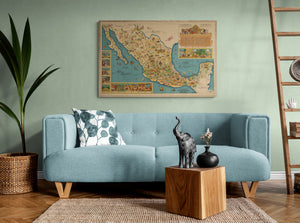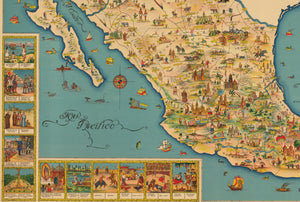 Mapa Ilustrado de la Republica Mexicana Publicado Por Margaret M. Crane Eugenio Fischgrund
By:
 Miguel Gómez Medina
Date:
 

1930s (circa) Mexico
Dimensions:
 26 x 41 inches
This is a fine print reproduction of an exuberant 1930s pictorial map of Mexico designed to entice tourists to explore the many natural, historic, and cultural attractions of the country. The map was created by Miguel G. Medina, and published by Margaret M. Crane & Eugenio Fischgrund.
This pictorial map of Mexico is divided by states with railroad lines extending across the country in all directions. Traditional cartographic elements are replaced by imagery of various locals using colors that allow them to blend in and out from one another. In the lower right corner, inset images depict the history of Mexico as well as Mexican customs and traditions. Such insets include the Founding of Mexico in 1325, Conquest of Mexico by Cortes in 1531, Independence of Mexico in September 16, 1810, a Rodeo, Cock-Fight, Bull Fight, and the National Dance, to name a few. 
A large inset fills the Gulf of Mexico and features the chorus of the national anthem of Mexico, numerous figures in indigenous garb, and a quote from the beginning of the volume on Mexico from William H. Prescott's historical series "The Nations of the World."
The map was created by Miguel Gomez Medina and was given to tourists at various hotels and restaurants in Mexico City. Several versions of this map were published: larger versions in both English and Spanish and a smaller version that appeared several years later. This is the large Spanish version, with the addition of 6 planes added just across the border in the United States.
Inventory #11517
NOTE: THIS MAP IS AVAIBALE IN ARCHIVAL MATTE PAPER AND AS A FABRIC ADHESIVE WALL MURAL
Contact Us
Use the form below to ask questions about our fine print reproductions, give special requests, help us source the right map for you, customize your order, or sell us original maps you own to our sister company, New World Cartographic.
All you have to do is message or call us at (312) 496 - 3622.