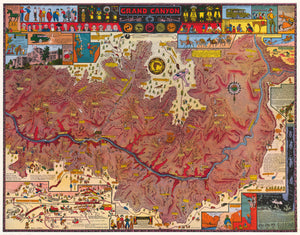 By: Jo Mora Publications

Date of Original: 1931 (Published) Monterey, California

Original Size: 14 x 18 inches (35.6 cm x 47 cm)

This fine print reproduction of a bright, pictorial map provides a detailed and whimsical look at the Grand Canyon with marvelous vignettes scattered throughout the image. Joseph (Jo) Mora was born in Uruguay, and became one of the foremost pictorial mapmakers of the 20th century. This map demonstrates his great ingenuity and flair for pictorial illustrations, his irreverence, inimitable sense of humor, and his serious passion for particulars of the land. It is full of Native American motifs, history, and images depicting the Grand Canyon as a tourist attraction.

The map depicts famous architectural monuments from around the world as being located in the Grand Canyon, including the pyramids, a temple to Isis, an Ottoman amphitheatre, a throne to the Norse Wotan, 'father of all gods'. Further, a Vishnu temple, the Freya Castle, a temple to Thor, a Brahma temple, and even a Zoroaster temple. Each edifice or description of such is accompanied by an appropriately fashioned and attired personage of that religion, period or place. A myriad of religious and mythical figures decorate this fanciful map. Cowboys, Indians, Spaniards in war regalia, tourists, animals, lizard; Mora's 'Grand Canyon' depicts an entire universe of people, places, automobiles and other objects of utilitarian purpose.
Mora was an artist, historian and author who was especially interested in the indigenous peoples of America, including the Hopis and Navajo Indians in Kearns Canyon, Arizona. His interest was such that he learned their languages and customs, documenting their Kachina ceremony and collected other ethnological information in photographs and paintings.
Please note, this poster is printed with a fairly large, kitsch half-tone dot pattern. The larger the sizing, the more apparent this will be
Inventory #19725 
Contact Us
Use the form below to ask questions about our fine print reproductions, give special requests, help us source the right map for you, customize your order, or sell us original maps you own to our sister company, New World Cartographic.
All you have to do is message or call us at (312) 496 - 3622.