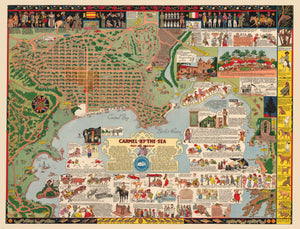 By: Joseph Jacinto Mora
Original Date: 1942 (dated) Monterey, CA
Size of Original: 19 x 24.5 inches
This is a fine print reproduction of a delightful map of Carmel, California by Jo Mora, a Uruguayan-born American cartoonist, illustrator and cowboy who ultimately made his home in the area. The map has a copyright of 1942 with by Jo Mora Publications, Monterey California.
This pictorial work pays great homage to the history of Carmel, its inhabitants, and their past-times at the time of printing. Several locals are noted in the lower half of the map, some of which include the "Carmel Follies," "the Goose Girl," "Delos Curtis," driving his horse "Peanuts," and the a stage coach driver by the name of "Sam Powers," who made the male passengers get out and walk up the steepest of grades. Even the local dogs have a place on the map in a separate panel on the right. In the left hand portion, one will find an amusing compass rose that highlights the importance of the arts with a winking owl at its center.
Jo Mora born on October 22, 1876 in Montevideo, Uruguay, became an American cartoonist, illustrator and cowboy, who lived with the Hopi and wrote extensively about his experiences in California. He was an artist-historian, sculptor, painter, photographer, illustrator, muralist and author. He has been called the "Renaissance Man of the West". His distinctive style leave many in awe and his works have become increasingly sought after throughout the map collecting community.
Inventory #11065
Contact Us
Use the form below to ask questions about our fine print reproductions, give special requests, help us source the right map for you, customize your order, or sell us original maps you own to our sister company, New World Cartographic.
All you have to do is message or call us at (312) 496 - 3622.