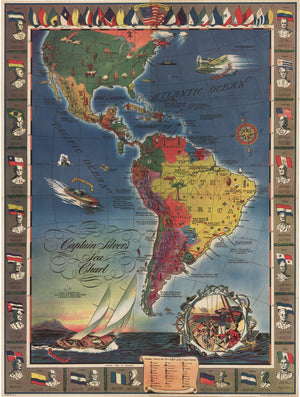 By: Neff
Date of Original: 1943 (copyright) New York
Original Size: 26 x 19.5 inches (66 x 50 cm)
This a fine print reproduction of a beautifully illustrated poster map of America that was produced on behalf of Nelson A. Rockefeller's Office of Inter-American Affairs, in connection with the American Radio Program. The show, which was broadcast five times a week, featured Captain Silver and his sidekick Jerry, hunting Nazi spies throughout the western hemisphere. It was part of a national program intended to strengthen inter-American relations.
The map pictorially depicts the Western Hemisphere, with iconic products and/or personages of each country or region drawn in vivid colors. A variety of the latest models of modes of transportation decorate the map, including a sailboat, a speedboat, and an ocean liner. An airplane called the Sky Hound flies over the Atlantic.
Inventory #10921
Contact Us
Use the form below to ask questions about our fine print reproductions, give special requests, help us source the right map for you, customize your order, or sell us original maps you own to our sister company, New World Cartographic.
All you have to do is message or call us at (312) 496 - 3622.