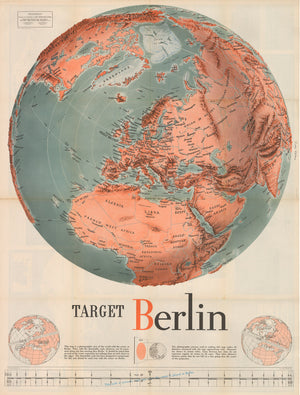 By: F.E. Manning for the Army Orientation Course Special Division Army Service Forces
Date: 1943 (Published) Washington, DC
Original Size: 47 x 35.5 inches (119.4 cm x 90 cm)
This is a fine print reproduction of a large map (broadside), formally entitled Newsmap. Monday, October 25, 1943, Vol. II No. 27. By F. E. Manning, it is one of the most iconic American WWII propaganda maps to have been published.
The focus of the map is a panoptic view of Berlin, from which a series of concentric circles radiate, thus creating a target-like effect. The circles ever widen till they include much of the world. Publishing of the map was timed to serve as a prelude to the first major allied airstrike on Berlin. Within days of its being published, British Air Marshal Arthur 'Bomber' Harris led a series of air raids on Berlin which did not relent till March of 1944. Despite the destruction of vast swathes of the city, the operation was considered a failure for it accomplished little in the way of crippling or even limiting Germany's war efforts, and in fact led to reprisal attacks such as Operation Steinbock and London.
Printed below the map is a cut away distance scale with the following instructions. 'This map is a photographic view of the world with the center at Berlin. Thus with the detachable scale distances can be measured along any line running thru Berlin. It should be noted that an inch at the center represents less mileage than an inch closer to the edges. The detachable scale has been designed to compensate for this and should be used only with the center on Berlin.
The photographic process used in making this map makes all distances measured with the tape approximate only. Distances are shown in statute miles. Lines between key cities do not represent regular air routes in all cases. They show distances between points that do not fall on a line going thru the center of the projection.'
This is one of many 'Newsmaps' published weekly by a propaganda arm of the US War Department called 'Army Orientation Course of the Special Service Division Army Service Forces'. The maps employed bold typesetting and dramatic imagery to relay the most recent war news. Few Newsmaps were as dramatic or had the impact as 'Target Berlin'. 
Inventory #10762
Contact Us
Use the form below to ask questions about our fine print reproductions, give special requests, help us source the right map for you, customize your order, or sell us original maps you own to our sister company, New World Cartographic.
All you have to do is message or call us at (312) 496 - 3622.