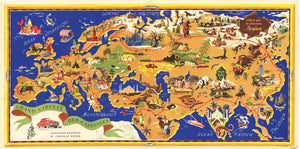 By: J.B. Jannot
Date: 1956 (Published) Paris
Original Size: 18.75 x 38 inches (47.6 cm x 96.5 cm)
This is reproduction a wonderful pictorial map of Europe and Asia, made for Chotolat Menier. The map is loaded with images of indigenous people, plants, animals, and buildings. A variety of ships roam the seas and Poseidon rides a vicious whale in the north Atlantic. A red line of travel connects important cities throughout the map.
The Menier Chocolate Company was founded in 1816 as a pharmaceutical manufacturer in Paris, France, at a time when chocolate was used as a medicinal product and was only one part of the overall business. The business grew rapidly but for the first few years the company's production of chocolate was very limited, as its primary usage was as a medicinal powder and for coating bitter-tasting pills. In 1893 the company began using advertising posters created by Firmin Bouisset featuring a little girl using a piece of chocolate to write the name Chocolat Menier on a wall or window. The small girl's sweet innocence conveyed the sweet chocolate message through her "chocolate graffiti". It proved to be a highly successful image and became an internationally recognized symbol. Firmin Bouisset's image of the little girl would be featured on Menier's packaged products as well as on promotional items such as reusable tin ware, creamers, bowls, sugar dishes, plates, canister sets, and even children's exercise books.
With their growing international presence, the Menier Chocolate Company exhibited at the 1893 World's Fair in Chicago where they were billed as the leading chocolate makers in the world. World War I marked the beginning of the decline of the Menier Chocolate company. While Europe was in turmoil and businesses there suffered greatly, rapid expansion was taking place in neutral Switzerland and in the United States.
Inventory #19404
Contact Us
Use the form below to ask questions about our fine print reproductions, give special requests, help us source the right map for you, customize your order, or sell us original maps you own to our sister company, New World Cartographic.
All you have to do is message or call us at (312) 496 - 3622.