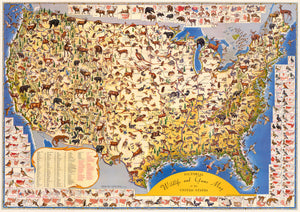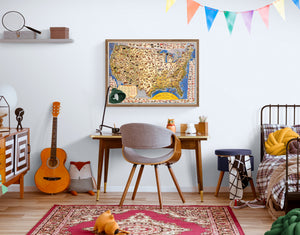 By: Ira Moss

Date: 1956 (dated) New York

Original Size: 19 x 27 inches (48.25 x 68.5 cm)

This fine print reproduction by Ira Moss is both pleasing to the eye and loaded with information regarding Game and Wildlife in the United States during the 1950s.

To help dissect the map, an index key at lower left lists coordinates for every national forest, represented by pine trees throughout. Fifty-five game animals listed in black and sixty-eight birds listed in red are also included in the key with an identifiable number that corresponds to the map. Surrounding the map are boxed inset maps of every game animal listed, showing their habitat within the continental United States.

For several bird species the inset map will indicate through shading their locations during the summer and winter months. Surrounding the entire map, a detail that's easy to miss, but worth noting, is a thin border of Canadian Geese in flight.
Inventory #11248
Contact Us
Use the form below to ask questions about our fine print reproductions, give special requests, help us source the right map for you, customize your order, or sell us original maps you own to our sister company, New World Cartographic.
All you have to do is message or call us at (312) 496 - 3622.