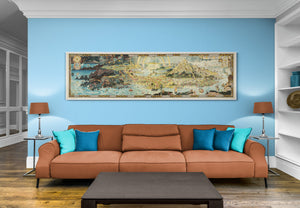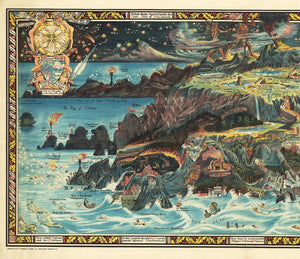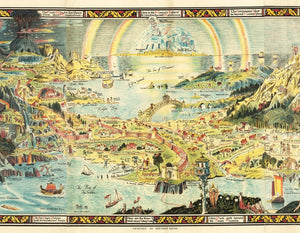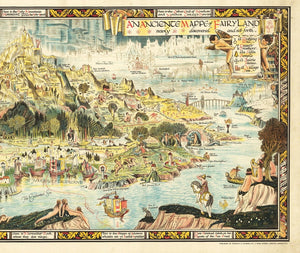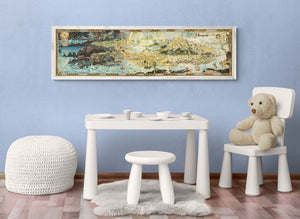 By: W. Griggs & Sons - Bernard Sleigh

Date: 1918 (published) London

Original Size: 18.5 x 58.5 inches (47 x 150 cm)

This fascinating pictorial map by the English artist Bernard Sleigh depicts an imaginary Fairyland as seen through a bird's eye view. This is a giclée print reproduction of the original three sheet map, which was created at the end of WWI in an effort to promote the arts during a time when so much effort was focused on the industrial revolution.

The map is a wonderful marriage of European folklore, literature, fairy-tales, and Greek Mythology. As the eye moves from the dark stormy seas in the west towards the city in the east where they make snow and ice, one is likely to encounter the 'Cliffs of Giants,' 'valleys of fire' and 'dragons,' 'Rapunzel's Tower,' 'Hansel, and Gretel,' 'Ulysses's Ship,' 'Little Bo Peep,' 'Leprechauns,' the mythological Norse 'Hall of Valhalla,' 'Never-Never Land,' 'Little Red Riding Hood's house,' 'King Arthur's Tomb,' 'the Hydra,' 'Labyrinth,' 'Demeter,' and 'the Water Babies,' just to name a few...

Just follow the red road "from the world,' or forge your own path. You are bound to unearth memories from early childhood stories or stumble upon a new wonder you've never heard of before. Either way, you will find yourself enjoying this map for hours on end and years to come. A great gift or addition to any child's room or play area.

Inventory #81021
Contact Us
Use the form below to ask questions about our fine print reproductions, give special requests, help us source the right map for you, customize your order, or sell us original maps you own to our sister company, New World Cartographic.
All you have to do is message or call us at (312) 496 - 3622.